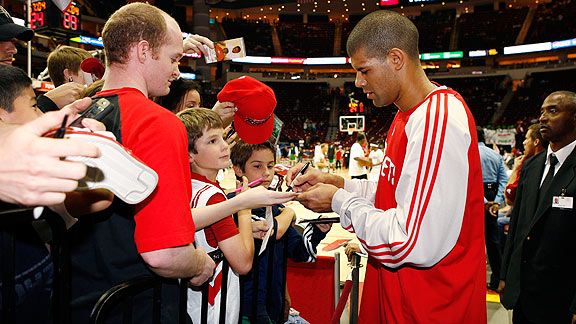 Bill Baptist/NBAE/Getty Images
Celtics fans like Shane Battier. But so do Houston Rocket fans.The Boston Celtics need a swingman. The Houston Rockets have an abundance of swingmen. The Boston Celtics can (potentially) offer a team salary cap relief in the form of Rasheed Wallace's contract (if he follows through with his retirement). The Houston Rockets could benefit from cap relief after their offseason moves thrust them over the luxury tax with one of the top payrolls in the NBA.
These are all indisputable facts. But before the "Get Shane Battier!" party gets out of control, let us toss some cold water on those yearning for any sort of Battier-for-Wallace swap.
During Brad Miller's introductory press conference earlier this week, Rockets general manager Daryl Morey touched on the team's payroll issues and doesn't sound like a guy ready to deal away Battier. From FoxSports Houston:
Meanwhile, Morey acknowledged that with the addition of Miller, the Rockets will rank somewhere near the top five teams in the NBA in payroll. In fact, unless they reduce the payroll during the season through a trade, the Rockets will be in the luxury tax this season. Morey said owner Les Alexander is willing to take that plunge with the current roster.
And more cold water from the Houston Chronicle:
"With a lot of key guys like Yao Ming and Shane Battier [at the end of contracts] and the lockout [looming] next year, we're trying to make this is a special year and go as far in the playoffs as we can," said Morey.
While the Rockets might ultimately look at their roster and decide it is indeed in the best interest of the team to move a body in order to trim some cap space, they might not be inclined to do so until the season is underway. Battier's expiring deal benefits them moving forward and could be a nice chip at the trade deadline, depending on the Rockets' needs and performance.
Celtics coach Doc Rivers might have said it best when talking about players like Battier in January. Rivers noted that teams can't get enough guys like him that buy into supporting roles and bring the sort of intangibles that Battier offers. Maybe Houston can't get enough guys like him.