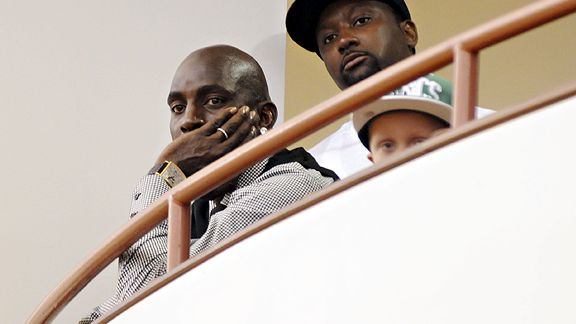 Darren McCollester/Getty Images
Kevin Garnett took a lofty perch for Shaquille O'Neal's introduction Tuesday.WALTHAM, Mass. -- If Shaquille O'Neal hadn't have pointed him out, Kevin Garnett might have otherwise gone undetected during the Big Shamrock's introductory press conference Tuesday at the Sports Authority Training Center.
O'Neal acknowledged Garnett, who was laying low in a perch outside Danny Ainge's office high above the practice court, while noting that the Big Ticket, fresh from a weeklong visit to China, had jetted up from Hawaii to be at Tuesday's introduction.
O'Neal is actually hoping to draw some of the attention away from Garnett on the court next season. But in praising the Big Ticket, O'Neal might have shown off his advanced age.
"KG has always been one of my young favorite players," said O'Neal. "We've had many battles, many conversations, many times we've hung out and now for me to be here protecting him and playing with him, I think that's going to give him a little more room to operate. He can go inside and outside, but with me down there keeping all the big guys off him, I would like to see him get a little bit more loose. He has one [championship], he should have three, so hopefully we can get this one together."
The always-loose Doc Rivers had been smirking since O'Neal started talking about Garnett and quickly pounced.
"KG and young, those two words haven't been said together in a long time," joked Rivers. "I'm sure you're happy right now, KG."
Garnett smiled and promptly fired back, "Doc's a hater, man."
Ignoring the formalities of the press conference, O'Neal then asked Garnett how old he was, guessing 31. Garnett shouted back that he was 34.
"Oh, 34," said the 38-year-old O'Neal. "That ain't bad."