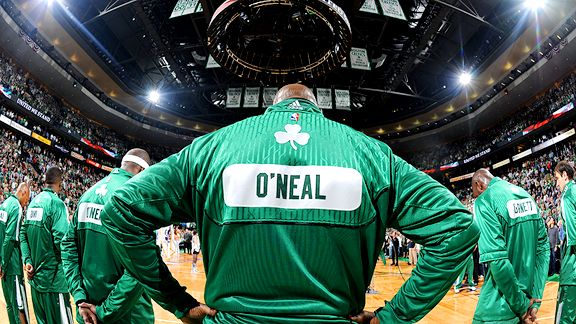 Brian Babineau/NBAE/Getty Images
We look back on Shaquille O'Neal's fascinating 10 months in Boston.Shaquille O'Neal arrived in Boston noting he only had 730 days left in his NBA career. Turns out injuries would prevent him from even reaching the halfway point. Regardless, O'Neal's 300 days in Boston were a fascinating journey filled with numerous noteworthy moments. Check out the timeline below for a full log of key dates in O'Neal's Boston adventure, from courtship to his final NBA game:
Aug 2: Appearance on Jimmy Kimmel Live
Amid speculation that he might sign with the Celtics for the final two years of his career, Shaquille O'Neal made a guest appearance on ABC's Jimmy Kimmel Live, and the conversation naturally shifted to potential destinations for the veteran free agent. When asked by Kimmel if he could imagine himself in a Celtics uniform, O'Neal replied: "[The] Celtics would be a good program." Kimmel then asked O'Neal if he would feel weird putting on a Celtics uniform, seeing as he played for their rival, the Los Angeles Lakers, for eight seasons. O'Neal replied by shaking his head, saying, "No."
Aug. 4: Celtics officially sign Shaq
Just two days after O'Neal told Jimmy Kimmel he could see himself in a Celtics uniform, it became a reality, as the Celtics announced they had officially inked Shaq to a two-year contract worth the veteran's minimum salary of $1.4 million. The signing netted them another interior force to help combat the absence of Kendrick Perkins, who, at the time, was still rehabbing the torn ACL in his right knee. The C's announced Shaq would wear No. 36. In the ensuing days, speculation was raised as to whether or not O'Neal would be able to accept a reserve role in Boston, and whether he would hinder the Celtics' strong team chemistry.
Aug. 10: Shaq introduced in Waltham
The Celtics introduced Shaq to the media less than a week after announcing they had signed the 18-year veteran big man. Speaking to a swarm of reporters, O'Neal discussed his reasons for joining the Celtics, noting Boston was a club with a strong history of winning and was only a piece or two away, prior to his arrival, from seriously contending for another title. "I've done everything individually that I've set out to do," O'Neal said. "Now, toward the latter part of my career, it's all about winning." O'Neal, known in part for the many nicknames he had accumulated over the course of his career, said he was leaning towards "The Big Shamrock" as his primary alter ego in Boston.
Aug. 28: Shaq makes first public appearance at UFC Expo
Shaq made his first public appearance as a member of the Celtics at the UFC Fan Expo at the Hynes Convention Center, helping to promote UFC 118. Appearing onstage alongside UFC announcer Mike Goldberg, Shaq spent a half hour answering questions from the audience, which ranged from his skills as a rapper to his confidence in the Celtics winning another championship ("Pretty damn good," O'Neal said at the time).
Sept. 28: Shaq participates in first training camp session
Jermaine O'Neal entered the Celtics' 2010 training camp at Salve Regina University in Newport, R.I. as the front runner for the starting center position, but C's head coach Doc Rivers hadn't definitively ruled out Shaq as an option as well. Jermaine received the brunt of the reps with the first unit during the team's first training camp session, but Rivers also made sure Shaq got some burn with Rajon Rondo, Paul Pierce, and Co. as well. Rivers was praiseworthy of both centers following the team's first session.
Sept. 30: Shenanigans ensue with O'Neal at camp
As a team, the Celtics appeared to instantly bond over the first few days of training camp, and it didn't take long for some lighthearted pranks to take place, with the majority of them involving Shaq, the team's largest player, and Nate Robinson, the team's smallest. For starters Robinson, who wears a size 10 sneaker, slipped into Shaq's size 23 shoes and proceeded to run a suicide. Around the same time, Robinson began posting various videos on Twitter, like the one of him slipping a dose of salt into Shaq's water at a team meal, the one of he and Paul Pierce firing popcorn at Shaq's open mouth after he fell asleep at a team movie, and the one of he and Rajon Rondo sprinting down a hotel hallway and barreling into Shaq, forcing him to tip over backwards over a pile of luggage in the middle of the floor (C's owner Wyc Grousbeck most likely cringed upon seeing his $1.4 million investment topple to the carpet, even if it was all staged sketches).
Oct. 6: Preseason debut in New Hampshire
With Jermaine O'Neal battling a nagging hamstring injury throughout training camp, Shaq got the call as the starting center for the Celtics' first preseason game against the Philadelphia 76ers. The chemistry between O'Neal, Rajon Rondo, Ray Allen, Paul Pierce, and Kevin Garnett was evident from the outset, as the C's thrashed the 76ers, 93-65. Shaq logged 15:24 of game action, registering eight points on 4-of-5 shooting to go along with two rebounds. Afterwards, he playfully tells reporters he had no idea he was in New Hampshire.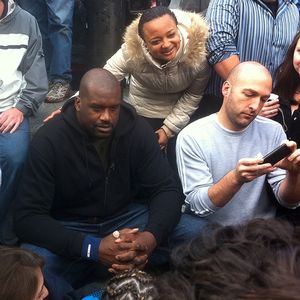 Chris Forsberg/ESPNBoston.com
A statuesque Shaq sat motionless on a bench in Harvard Square while fans milled around him snapping photos.Oct. 21: Shaq poses as statue in Harvard Square
Fulfilling a promise he had made in early October, O'Neal arrived in Harvard Square in the afternoon of Boston's final preseason offday, parked himself on a park bench, and spent the next hour posing as a statue. Even as he was mobbed by fans seeking photos and videos, O'Neal held his poise, apart from the occasional smile, sitting stock still until he rose up to leave. Looking back, it was arguably O'Neal's most popular public appearance, as hundreds flocked to Harvard Square for a glimpse and a snapshot of the 15-time NBA All-Star.
Oct. 29: O'Neal bruises right knee in win over Knicks
When the Celtics signed the 39-year old O'Neal, they did so under the assumption that he wouldn't play the full 82-game regular season slate. Injuries would most likely limit Shaq's availability from time to time, and sure enough, just three games into the season, the first one cropped up. After colliding with Amar'e Stoudemire in a 105-101 victory over the New York Knicks, O'Neal suffered a bruise near his right knee, which forced him to leave the game with 5:11 remaining. O'Neal would miss the next five games before returning for the Celtics' first trip to Miami to take on the Heat on Nov. 11.
Oct. 31: O'Neal unveils Shaqeeta for Halloween
Never one to miss out on an opportunity for a good time, O'Neal made the most of Halloween night, dressing up in drag as the fictional "Shaqeeta." While his original plans to ride on an MBTA train were shut down, O'Neal hopped in an SUV and jubilantly lip-synced Beyonce's "Sweet Dreams" -- which he of course posted online for all to see.
Nov. 14: Shaq's big night vs. the Grizzlies
After sitting out five games with the knee bruise suffered against the Knicks, O'Neal returned in Miami on Nov. 11 (earning a flagrant foul for a hard takedown of LeBron James). But it was his performance two nights later that really caught people's attention. O'Neal scored a season-high 18 points on 7-of-10 shooting with six rebounds over 22 minutes in a 116-110 triumph in Memphis. "Just the intimidation factor with him in the game; he gives us a presence that we haven't had, there's no doubt about that," Celtics coach Doc Rivers said after the game.
Nov. 24: Shaq's bigger night vs. the Nets
If Shaq was good in Memphis, he was even better back home against the Nets a short time after. O'Neal produced his second consecutive double-double, pouring in a season-high 25 points on 9-of-10 shooting with 11 rebounds over 32 minutes. "I score whenever they need me to," he said. "But I just play hard, do the little things that I was brought here to do. Do whatever Boston needs me to do; whatever [coach] Doc [Rivers] needs me to do."
Nov. 29: Shaq oversleeps practice, apologizes to Big Three
Celtics coach Doc Rivers gave his players the weekend off, but when practice resumed on Monday, one particularly large body was still missing: Shaq. Said Rivers after engaging in a shorthanded, 11-man practice: "[Shaq] got the times mixed up. He missed one, so he owes us one. We're good." Rivers dismissed any further talk of punishment, noting: "No, I was going to spank him, but it might not hurt. It may hurt me."
Dec. 20: Shaq conducts a holiday medley with Boston Pops
Fresh off returning from a four-game absence, O'Neal resumed his off-the-court shenanigans, joining the Boston Pops for a three-song medley that included a pair of Christmas tunes and culminated with a rendition of Queen's "We are the Champions." Introducing the final song, O'Neal said: "This is a song I hope you all will be singing on June 27 when the NBA season is over."
Dec. 25: Early foul trouble not what Shaq wanted from Santa
Bah humbug. It wasn't a very merry Christmas for Shaquille O'Neal, who lasted a mere 13 minutes before fouling out during Boston's loss to the Magic in a holiday blockbuster in Orlando. "I guess they came out to see No. 26 today," O'Neal said. "He was a great player out there today." Official Bob Delaney was the only person wearing No. 26 on the floor that day. The NBA later fined O'Neal $35,000 for his comments on officiating. Adding injury to insult, O'Neal said he suffered the initial Achilles injury during that Christmas day game and never quite recovered.
Jan. 14: Shaq's final monster effort vs. Bobcats
Unaware of the difficulties that lied ahead for him, O'Neal turned in one final vintage effort, pouring in 23 points to go along with five rebound and five blocks over a season-high 35 minutes in a 99-94 triumph over the visiting Charlotte Bobcats. O'Neal tried to slip out of the locker room before reporters caught him. "I've been in foul trouble and haven't really played a lot of minutes, so there was really no excuse for me to be tired," said O'Neal. "I just came out and got a few more touches tonight and just did what I did."
Jan. 21: Shaq departs with a 'sore leg' vs. Jazz
After starting 17 straight games over a month's stretch, the injury bug returned for O'Neal. On this night, he departed after just six minutes against the Utah Jazz and would sit out the next four games. Rivers said afterwards that he was "just assuming that it's nothing that bad." Little did coach or player know at the time that O'Neal would play just four more games during the regular season.
Jan. 30: O'Neal gets mixed reaction in return to Los Angeles
After being greeted with a split reaction of boos and cheers, O'Neal logged 13 scoreless minutes as the Celtics emerged with a gritty 109-96 triumph over the rival Los Angeles Lakers, the team with which O'Neal enjoyed his finest NBA years and won three world titles. O'Neal missed both shots he attempted in this game, but hauled in six rebounds and blocked two shots in limited court time.
Feb. 1: O'Neal's second-to-last regular-season appearance
On the surface, there was nothing terribly noteworthy about O'Neal's performance this night. He logged a total of 16 minutes, a little more than five minutes in each of the first three frames before sitting out the fourth quarter. He'd sit out the next 108 quarters as well, missing 27 games while rehabbing an Achilles injury that simply wouldn't respond to treatment. Early in the process, the Celtics remained confident O'Neal would eventually heal, enough so to deal away Kendrick Perkins in late February.
April 5: C's get a glimpse of Shaq before end of regular season
O'Neal returned to the court after a two-month layoff and looked brilliant for 5½ minutes against the Detroit Pistons, only to hobble off the court when pain quickly returned to the Achilles. O'Neal would later note, "I felt like someone had shot me in the back of my leg." The injury was enough to sideline O'Neal for another month and straight through the first round of the playoffs against the New York Knicks.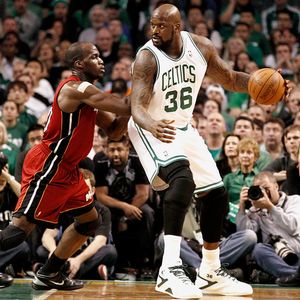 Brian Babineau/NBAE/Getty Images
O'Neal played through the pain of the Achilles injury in Games 3 and 4 vs. Miami.May 7: Shaq returns for Game 3 vs. the Heat
With Boston staring at an 0-2 hole against the Miami Heat, O'Neal was christened a potential savior and drew big cheers when he checked into his first game in more than a month midway through the first quarter of Game 3 in Boston. He scored two points, with zero rebounds, in 8:29 of action in his 2010-11 postseason debut. Even in limited minutes, the Achilles didn't respond well to the return to action.
May 9: O'Neal limited to 4 minutes in Game 4 vs. Heat
O'Neal got back out on the floor for Game 4, but was largely ineffective. His box score was a line of 0's besides two personal fouls he committed over three minutes. O'Neal clearly had trouble moving around the court and it would prove to be his final game in a Boston uniform after being deactivated for Game 5, where Boston's season ended in Miami.
June 1: Shaq announces his retirement via social media
Saying he didn't want to hold Boston hostage for another season, O'Neal announced his retirement via social media after 19 NBA seasons. Filming a short video for Tout.com, O'Neal said, "I'm going to miss the competition. I'm going to miss, you know, the chase for the ring. You know, I'm actually going to miss everything. Father Time has caught up with Shaquille O'Neal."