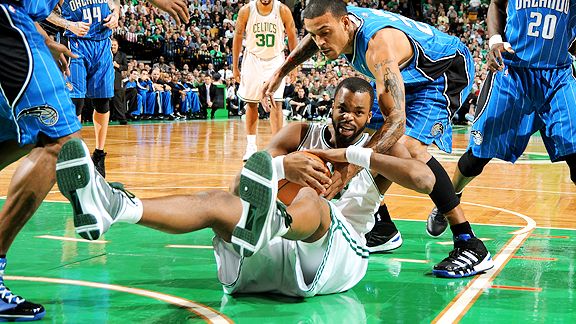 Brian Babineau/NBAE/Getty Images
Shelden Williams provided a nice lift at the start of the 2009-10 campaign with Glen Davis injured.Over the next few weeks, we'll take a player-by-player look at the 2009-10 roster and how each player's season unfolded, assigning a grade for their overall performance. This is the fifth in the series of report cards:
Player: Shelden Williams
2009-10 averages: 3.7 points, 2.7 rebounds, 0.4 blocks
2009-10 salary: $825,500
Season in a paragraph: The former first-round pick (fifth overall to the Hawks in 2006) came in with virtually zero expectations. On his fourth team in four seasons, Williams was exactly as advertised: A hard worker whose biggest contributions came on the practice court. He appeared in 54 games, the majority at the start of the year when he filled in admirably for injured Glen Davis. By the end of the year, when the rotation shrunk, Williams found himself as an emergency fill-in, but nearly worked hard enough to overtake Davis again in March, coach Doc Rivers said at the time.
Season highlight: Oct. 30, 2009 -- Coming off a solid performance in the second game of the season against Charlotte (12 points, 9 rebounds), Williams produced his only double-double (10 points, 10 rebounds) over 24 minutes in a rout of the Bulls. He ultimately registered double digits in scoring in three of his first five games with Boston.
Season lowlight: June 15, 2010 -- After limited postseason play, Williams got thrust into an increased role when Kendrick Perkins tore his ACL chasing a rebound in the first quarter of Game 6 of the NBA Finals. Williams logged 14 disastrous minutes, missing the only shot he took, turning the ball over twice, and failing to grab available rebounds. The stage proved too big for the postseason rookie and he did not appear in Game 7.
Final grade: C-
Teacher's notes: His performance in the Finals screams for a lower mark, but that would be ignoring the fact that he was insanely valuable over the first 27 games of the season with Davis sidelined for a foolish off-court incident. Little was expected of Williams, yet Boston might not have been nearly as successful (22-5) to start the season without him filling a valuable reserve role in the frontcourt. A quiet man in the locker room, Williams simply did his job and saved some of his biggest contributions for the practice court, where he went right at Kevin Garnett (and this reporter recalls one very memorable practice jam right over KG). It just never translated to game situations. A big presence on Twitter, Williams might actually be remembered best for setting Celtics fans into panic mode by suggesting that Paul Pierce's foot injury was far more serious than it turned out to be.
What's next?: Williams' postseason stumble might give the Celtics pause in bringing him back, even with the team starved for big men (especially cheap ones). If it comes down to giving a minimum contract to Williams or Brian Scalabrine, the latter would probably get the nod. But if there's still room on the roster as training camp nears and Williams is without a home, don't be terribly surprised if the Celtics consider another one-year go-around.
Honor roll: Click HERE to read past report cards.
Don't agree with teacher? Just want to sound off on Williams' 2009-10 season? Click HERE to leave a comment.