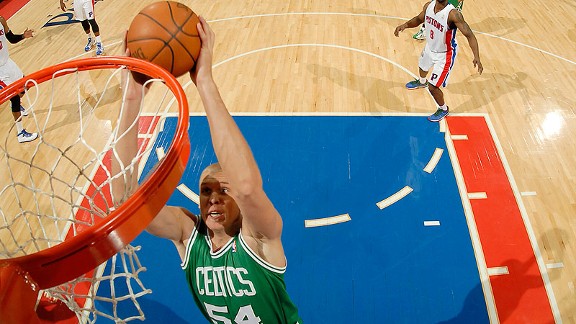 Allen Einstein/NBAE/Getty Images
Greg Stiemsma goes up for the dunk in Detroit on Sunday.With two more dunks Sunday night against the Detroit Pistons, including the first career slam for rookie center Greg Stiemsma, the Boston Celtics now have 99 dunks for the 2011-12 season, according to dunk stats logged by the team's media relations squad. A look at the team's overall slam leaderboard through 30 games:
Brandon Bass - 21
Jermaine O'Neal - 19
Chris Wilcox - 18
Kevin Garnett - 17
Paul Pierce - 7
JaJuan Johnson - 7
Avery Bradley - 3
Mickael Pietrus - 3
Marquis Daniels - 2
Sasha Pavlovic - 1
Greg Stiemsma - 1
The Celtics are averaging 3.3 dunks per game this season, ahead of last year's pace that saw them average 3.0 dunks per contest. Last year, Garnett topped the dunk leaderboard (60) with Shaquille O'Neal (42) and Pierce (37) rounding out the top three.
With midseason nearing, is Bass the odds-on favorite to win this year's crown? Does Wilcox's recent emergence -- and chemistry with Rajon Rondo make him the sleeper to top the category? Sound off with your thoughts in the comments.