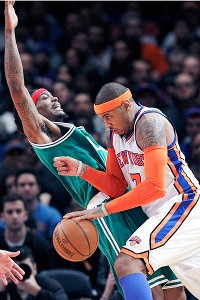 AP Photo/Kathy Willens
Can Carmelo Anthony carry the Knicks past Boston again?Yes, it's Boston vs. New York, but Celtics and Knicks appear to be headed in opposite directions:
Not all of the Boston-New York sporting drama is going on in Indianapolis. Well, OK, 99 percent of it is. In this case, being in the 1 percent means getting ready for the first visit of the Knicks to TD Garden since the 2011 playoffs.

This isn't quite a misery-loves-company matchup, but it's also not a battle between two division (let alone conference) titans. Many of us thought it would be when the season began, and the Knicks rode a brilliant Christmas Day performance from Carmelo Anthony to beat the Celtics 106-104. Weren't we witnessing a potential changing of the guard, with New York ready to unseat the Celtics as the four-year running Atlantic Division champs?

Fast-forward six weeks and you have two teams looking up at surprising Philadelphia in the division and one team, New York, out of the playoff picture altogether. No, it's safe to say things have not gone well -- or as expected -- in either burg this season.
Hop HERE to read the full story.