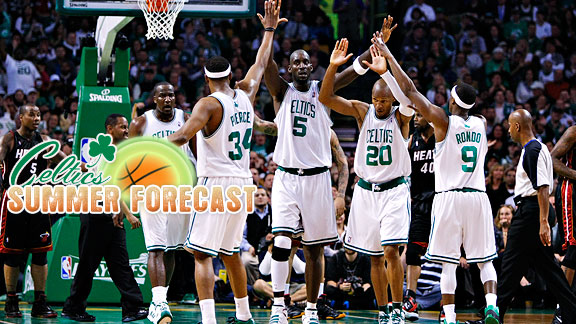 Ronald Martinez/Getty Images
Our panel has high aspirations for the 2010-11 Celtics.If Boston's rather improbable run to the cusp of a world title last season taught our panel of experts anything it's this: Don't bet against the Celtics.
Unfortunately, that's led to a bunch of bloggers who can't hedge their bets enough when predicting what the future holds for Boston's basketball team. For the third installment in our Celtics Summer Forecast series, we asked our panel of 18 experts from eight popular Celtics blogs to predict how the Celtics' 2010-11 season will end.
Several of our experts were hesitant to put anything past the Green. Maybe North Station Sports' Nick Gelso summed it up best: "Now this is a tough one. I am taking the safe route here: If healthy, the Celtics can beat anyone in the Eastern Conference."
He wasn't alone. Half of our panel hedged their bets in one way or another, many suggesting that the Celtics would meet the Miami Heat in the Eastern Conference Finals and tossing their arms up from there.
Even in a bulked-up East, where the Miami Heat were dubbed the landslide favorite to steal Boston's crown by ESPN.com's panel of 93 experts in the national Summer Forecast, our panel is skittish to suggest Boston can't get back to the NBA Finals.
As CelticsBlog's Jimmy Toscano wrote, "We saw a completely different team in the playoffs last season than we saw in the regular season, so if that same intensity returns for the playoffs this season, the Celtics could absolutely be your NBA Finals champs."
But will they?
Click HERE to read the full story.
---
Over on the national Summer Forecast, our panel of 93 experts pegged the Los Angeles Lakers as most likely to walk away with another Larry O'Brien Trophy. Here's the voting breakdown:
Boston's offseason additions, including Shaquille O'Neal, helped ESPN.com's Chris Sheridan give the Celtics the preseason nod to be champs:
If they had had Kendrick Perkins and a healthy Rasheed Wallace in Game 7, I think they would have won at Staples. Pau Gasol was just too much for them down the stretch. But now they'll have Jermaine O'Neal, too, to check Pau in a deciding game. I still think they need to replace the departed Tony Allen, but it's a long time between now and the trade deadline.
Click HERE to read the full story.