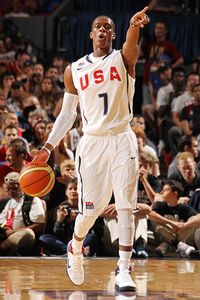 Nathaniel S. Butler/NBAE/Getty
After Rajon Rondo looked bad against Lithuania and registered a DNP against Spain, the writing was on the wall.ESPN Boston's Peter May says Rajon Rondo's withdrawal from Team USA is just the latest in a string of disappointing performances by Celtics on the international stage.
Maybe we should have known something was fishy when Rajon Rondo somehow went from starter to DNP-coach's decision in the space of 24 hours during USA Basketball's exhibition tour in Europe. He had not registered a DNP-CD in any meaningful game for anyone since the first couple of months of the 2006-07 season, when coach Doc Rivers sat the rookie four times in the Celtics' first 23 games.

Team USA coach Mike Krzyzewski sat Rondo for Sunday's exhibition game against Spain, one night after starting him against Lithuania. By then, Rondo could read the writing on the wall, telling ESPN's Chris Sheridan that he felt he could be the final cut for the 2010 world championship team.

Well, he was ... and he wasn't. Rondo withdrew his name from consideration, or if you're cynical, he jumped before he was pushed. He will not be on the U.S. team when it starts the tournament on Saturday.

Rondo would have been a curious selection for an international team because he has no reliable outside shot and can't make free throws. Now, he will head home instead of to Turkey, where the United States will try to win a gold medal in the world championships for the first time since 1994.

For the Celtics, it's another example of one of their players not exactly living the high life in international competition.
Click HERE to read the full story.