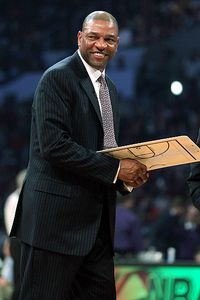 Jeff Gross/Getty Images
Doc Rivers and his biggest weapon: The dry erase board.It's no wonder that Doc Rivers was the Celtics' most sought-after free agent each of the last two summers. On top of having earned total trust from his veteran club, Rivers has cemented himself as one of the best X's and O's coaches in the NBA, particularly in the final minutes of close games -- a time when he unleashes an artistry for almost always coming up with the right play for his guys to run.
While the players are often most lauded for the winning plays, in the case of the Celtics, it always starts with Rivers and his whiteboard, setting his troops up for late-game success. Here are five of Rivers' most memorable late-game play designs from this past season:
Dec. 9: Rondo to Garnett lob silences 76ers
With accomplished late-game scorers like Paul Pierce and Ray Allen on the roster, Kevin Garnett sometimes flies under the radar in the final minutes, which makes him the perfect weapon for Rivers to utilize in certain situations. The play called for Pierce and Garnett to rotate towards Rondo on the right wing, and while Pierce faked a screen on Rondo's man, Jrue Holiday, Garnett actually set one before diving to the hoop. In the chaos that ensued from the presence of two potential screeners, Philly's defenders were forced to switch, which left Holiday on Garnett and gave Rondo a perfect target for an over-the-top lob pass, which Garnett caught in mid-air and banked in, lifting Boston to a 102-101 triumph. Having worked on the play for a number of weeks leading up to this game, Rivers finally felt like it was time to test it with the game on the line.
Dec. 15: Pierce's game-winner vs. Knicks
When Paul Pierce is dribbling the clock down in the final seconds of a close game, it's usually a clear indicator that he's about to take two or three dribbles to his right and pull up for a fading jump shot on the right wing or elbow. And while these days, the Celtics have other options to be less predictable, sometimes it's best to simply let Pierce do his thing, and Rivers knows that better than anyone. So, against the Knicks midway through December, with Pierce having already scored 30 points in a game that was tied at 116, Rivers knew it was his captain's game to win. Kevin Garnett set a screen for him at the top of the 3-point arc, and the Knicks elected to switch, leaving Amare Stoudemire on Pierce. Pierce drove right before stepping back and lofting a 14-footer over Stoudemire's out-stretched arm, sinking the Knicks, 118-116, in dramatic fashion.
Jan. 19: Allen topples the Pistons
Even when his players are laboring through difficult shooting nights, Rivers' confidence in them isn't shaken. Consider the night Ray Allen was having against the visiting Detroit Pistons. Allen was just 1-of-7 shooting from the field when Rivers drew up a play for him with less than 30 seconds to play and the game tied at 82. Allen fed Rajon Rondo the ball up top and took off towards the baseline with Pistons guard Rodney Stuckey in hot pursuit. Allen charged towards the right corner and, just as Rivers designed it Allen would later reveal, Rondo fed Allen who turned, squared, and fired, sinking a long jumper that gave the C's a crucial two-point lead en route to an 86-82 triumph.
April 17: Game 1 vs. NYK: KG's alley-oop dunk
Most people remember Ray Allen's winning 3-pointer against the Knicks in Game 1 of the Celtics' first-round playoff series (and rightfully so; more on that below). But what's often overlooked is Rajon Rondo's out-of-bounds lob to Kevin Garnett with 37 seconds left that brought the Celtics within a point and allowed Allen's 3-pointer afterwards to give Boston a lead. It was a play the C's ran unsuccessfully against the Dallas Mavericks back on Feb. 4, but with the stakes higher, Rondo and Garnett were able to connect. Rivers banked on the Knicks sticking close to Allen with the C's down three, but Allen's most vital role on this play proved to be the screen he set on Garnett's man, Ronny Turiaf, which gave Garnett an uncontested lane to the rim. After flashing briefly at the left elbow, Garnett sliced back-door towards the rim, and once Allen's screen guaranteed him no interference, all Garnett had to do was rise up and catch Rondo's perfectly thrown lob pass and slam it home. Another crucial aspect of the play? Less than a second came off the clock given the inbounds feed.
April 17: Game 2 vs. NYK: Allen's trifecta
While the Knicks were banking on Allen receiving the ball on the play resulting in Garnett's dunk described above, they should have been equally focused on stopping him on the Celtics' next play, which ultimately won them the game. Who knows, maybe they were. What we do know is they were unable to keep Allen in check, and he burned them with the winning 3-pointer from the left wing as a result. Rivers drew up an intricate play involving multiple screens that created the space Pierce needed to get Allen the ball. With Pierce dribbling above the 3-point arc, Allen set a screen on his man, Carmelo Anthony, which freed Pierce up enough to rifle a pass over, but Allen was only open because of the monster screen Garnett set on a recovering Toney Douglas, who was scampering back to the left wing to try and cover Allen again (some thought Garnett tripped him, but that's a whole different story). The players followed through on Rivers' design, and the coach gave an appreciative fist pump when New York called a timeout after Allen's 3-pointer went down.
Greg Payne is a student intern for ESPNBoston.com