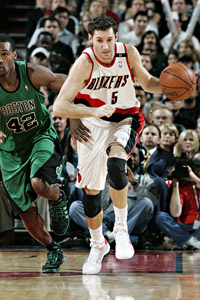 Sam Forencich/NBAE/Getty
Rudy Fernandez would help people forget about Tony Allen.For the past couple of weeks, Rudy Fernandez's name has popped up in trade speculation because of his unhappiness playing behind All-Star Brandon Roy in Portland. A report Wednesday in The Oregonian suggests Boston is one of three teams vying for his services:
At the urging of Rudy Fernandez and his agent, the Trail Blazers have engaged in accelerated trade discussions to deal the disgruntled, once-popular shooting guard to one of three Eastern Conference teams.

Boston, Chicago and New York are all in the running to land the 6-foot-6 Spaniard, who set an NBA rookie record two seasons ago by making 159 three-pointers.

Fernandez, 25, is unhappy in Portland because of limited playing time behind All-Star Brandon Roy and because of the playing style of coach Nate McMillan, who primarily used Fernandez as an outside shooter, not the playmaker Fernandez believes he can be in the NBA.
The Celtics would likely be attempting to move Rasheed Wallace's contract as part of a deal (something that seems fitting as Wallace's career blossomed in Portland and Doc Rivers suggested that Wallace will retire to that area after his playing days), but Fernandez is a value buy ($1.25 million), so the Blazers would have to send another player in return and there's not much that matches up (at least that Portland would be willing to part with).
Boston could spice up their offer with a first-round draft pick, but considering it's likely pegged as a late first-rounder next season, it's unlikely to entice Portland. The Celtics could offer some of their lower-priced chips, like Glen Davis, but that could create a void in an already-thin frontcourt.
Fernandez averaged 8.1 points, 2.6 rebounds, and 2 assists per game in 62 appearances last season.
(h/t: Boston Globe, CelticsBlog)