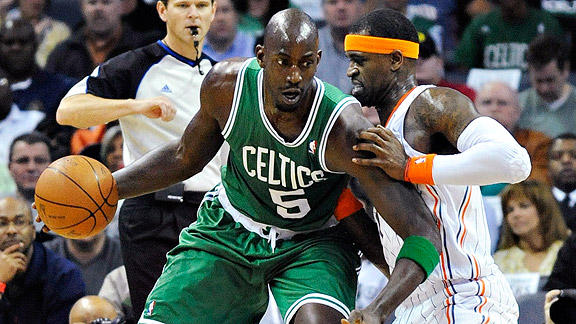 Sam Sharpe/US Presswire
Kevin Garnett is one of three Celtics in Bill Simmons' annual top 50 for trade value.ESPN.com's Bill Simmons provides his annual glance at the top 50 players in the NBA in terms of trade value. All of the criteria is explained in the intro to this year's two-part column. We've plucked the Celtics out to spotlight their rankings:
Honorable mention: Kendrick Perkins and Glen Davis get a dual nod, but landed outside the top 50.

No. 29 Kevin Garnett: Of course, you can't mention Kevin Garnett in a sports column anymore without mentioning how much everyone hates Kevin Garnett. Since joining the Celtics, he's slowly morphed into the least-liked superstar in the league, this generation's version of Rick Barry or Isiah Thomas. That's been devastating for me for two reasons: He plays for my favorite team, and more importantly, that Barry/Isiah spot was supposed to go to Kobe. How did this thing flip so fast? Every day, I get at least one e-mail from a reader wondering, "How can you root for Kevin Garnett?"

17. Paul Pierce: [A guy] who will unquestionably retire with [the Celtics]. Kinda ruins the point of the column.

13. Rajon Rondo: Rondo may have replaced Gary Payton as the all-time Table Test guy: Has anyone in basketball history ever brought more things to the table and taken more stuff off the table? In Sunday's Miami win alone, he finished with a triple-double, demanded to cover LeBron and disrupted him for a couple of quarters … and in the last few minutes, Miami played 40 feet off him and dared him to win the game. In close games, Celtics fans are an emotional mess: We want Rondo to shoot, we don't want him to shoot, we don't know what the hell we want. The enduring Rondo question: Does he get enough done in those first 44 minutes (routinely spectacular, consistently excellent) to offset the last four minutes (when his outside shooting, porous free throw shooting and fear of getting fouled become such major liabilities) and the strategic conundrums he inadvertently creates (like when smart teams leave Rondo alone and use his defender as a double-teamer/extra rebounder)? I honestly don't know the answer. I just know that, when he shoots the ball in a big spot, I want him to shoot it … but I'm always surprised when it goes in. That's why I couldn't nudge him past Westbrook or the next two guys.
Click HERE to read the full column.