The finish line is in sight for the Boston Celtics. This brutal five-game road trip out west mercifully wraps up on Saturday night with a visit to the Portland Trail Blazers. There is the very real chance that Boston will stagger home winless with an eight-game losing streak in their luggage.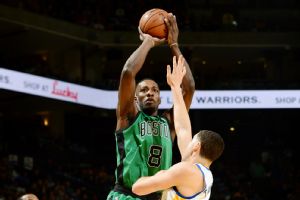 Garrett Ellwood/NBAE/Getty Images
Jeff Green had it going Friday.The past two games have seen better efforts from an unrelenting Boston squad that made fourth-quarter charges in losses to both the Los Angeles Clippers and Golden State Warriors. On Friday night, Boston rallied from 13 down in the final frame to tie the red-hot Warriors with 11 seconds remaining, but Steph Curry broke the Celtics' hearts with a long jumper after the visitors couldn't force the ball out of his hands in the final seconds.
The Celtics aren't much for silver linings at this point. They played exceptionally well at times on Friday against a Golden State team that was nearly flawless on its recent seven-game road trip. Gerald Wallace was one of many to note Boston's relentless effort in the past two games, overcoming early adversity to make things interesting, but was left wondering if the Basketball Gods would reward Boston with a much-needed win soon.
Here's what Boston can build off moving forward:
GOTTA HAND IT TO HIM: SULLINGER BOUNCES BACK: The previous eight games had been a real grind for Jared Sullinger and his ailing left hand (deep bone bruise). Sullinger was averaging 7.4 points and 6.9 rebounds over 21.6 minutes per game, but was shooting just 28.9 percent from the floor during that span and had shuffled off the first unit. Sullinger came off the bench to score 21 points on 9-of-16 shooting, but it was his relentless effort early on that stood out. He finished with 11 rebounds (five on the offensive glass). During Friday's game, Sullinger looked a lot more like the player who had been Boston's best performer for the early part of the season. He was a team-best plus-6 overall for the game.

GOOD THINGS HAPPENING WITH HUMP: Coach Brad Stevens' decision to move Kris Humphries to the starting lineup was fueled in large part by the energy and effort he brings when he's on the court. Humphries simply plays hard and it's infectious. On Friday, he turned in another solid outing with 16 points (half of which came while sparking Boston's fourth-quarter rally) and a game-high 14 rebounds. Humphries added three blocks and two steals and didn't turn the ball over while logging 35:31 of floor time. It's unfair that Humphries will be the defender in the spotlight as Curry's winning jumper is replayed over and over. Humphries got switched on him alone when David Lee's stout screen prevented Avery Bradley from helping Humphries trap Curry and force the ball out of the sharpshooter's hands in the final seconds. What we should focus on is how, during this seven-game losing streak, Humphries is grabbing a team-best 26.4 percent of all defensive rebounds (Sullinger is closest at 19.5 percent) and making good things happen with pure effort.

C'S NEED MORE OF AGGRESSIVE GREEN: It was pretty obvious Jeff Green had it going early in Friday's game. He stormed the baseline twice early, first throwing down an emphatic reverse jam, then muscling in a circus shot while being fouled. Green had 11 points on 5-of-6 shooting with three rebounds in the first quarter. He got going again late and finished with a team-high 24 points on 11-of-17 shooting with 11 rebounds. One area to nitpick: Green went quiet in the second quarter (one shot, zero points over six minutes). This was the sort of night where Green could have taken 25 shots, especially with Boston's backcourt struggling. Green needs to be selfish and understand it's OK for him to dominate the ball when he's got it going. It's too bad he fumbled the ball on the final play, as he's proven to be a clutch performer in those sort of late-game situations.