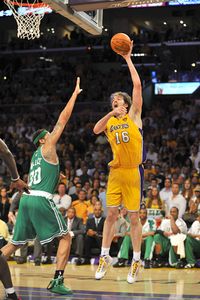 Brian Babineau/Getty Images
The Celtics were the biggest threat in a seven-game series for last year's Lakers. L.A.'s panel of experts sees more of the same this season.Our good friends at the Land O'Lakers Blog at ESPN Los Angeles are holding a summer forecast series of their own and Wednesday's question asked an expert panel which Eastern Conference team had the best shot of upending the Lakers in a seven-game series.
Evidently, there's not quite as much hype around Miami out West as there is back East. The Celtics hauled in nine of the 14 votes overall, three times as many as the Heat netted. Orlando sneaked in with one vote.
A couple of Los Angeles' panelists wrestled with the decision about whether Miami's assemblage of talent posed the biggest threat, but some ultimately pointed to Boston. As Forum Blue & Gold's Darius Soriano wrote:
"While Miami poses the best hypothetical threat due to their extreme talent base, I still have to go with Boston. Yes the Celtics have aged a year and adding the O'Neals [Jermaine and Shaquille] doesn't make them any younger. But that team defines the term "tough out" and we all saw how hard the Celtics pushed the Lakers in last year's Finals. Granted, the Celtics will have to get to the Finals first but if they do I think they'd present the toughest challenge and would have the best chance of winning the series. "
ESPN LA's Dave McMenamim also picked the Green:
The C's were about a half a quarter away from beating L.A. to win the championship last June and added the O'Neals in Shaquille and Jermaine. They have the size, they have the experience and they have clutch guys in Paul Pierce and Ray Allen who can match Kobe Bryant shot for shot. Miami and Orlando would be formidable Finals foes as well, but Boston is better equipped to unseat the back-to-back champs.
Click HERE to read the full story. Be sure to check out the whole series, HERE.