FOXBOROUGH, Mass. -- A feel for the pregame scene at Gillette Stadium, where the New England Patriots will host the Tennessee Titans at 4:15 p.m.:
Weather conditions: It is raining and windy. Colleague Chris Forsberg had a breakdown of the elements earlier. One noticeable aspect upon arrival at the stadium was that the field was not covered with a tarp. It will be interesting to see how that affects footing.
Officiating: Gene Steratore's crew will work the game. From an instant-replay perspective, ESPN.com NFC West reporter Mike Sando details where Steratore ranks among crews for reversed calls.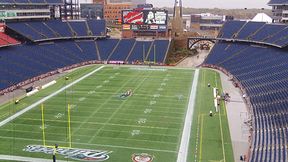 Chris Forsberg / ESPN Boston
One noticeable aspect upon arrival at the stadium was that the field was not covered with a tarp.
AFC legacy game: This marks the third of the Patriots' four legacy games this season that will celebrate the 50th anniversary of the American Football League. Both teams will wear throwback uniforms. The Patriots will wear red and white (with Pat Patriot helmets), replicating the uniforms worn by the 1963 team that claimed the franchise's first division title.
TV broadcast: Jim Nantz (play-by-play) and Phil Simms (analysis) will call the game on CBS. This will be their third of four straight Patriots broadcasts.
Scouts in the house: Three NFL teams are expected to be represented by advance scouts -- the Jaguars, Buccaneers and Dolphins. The Patriots will face the Buccaneers next week in London, while the Titans -- after a week off -- will host the Jaguars. The Patriots will face the Dolphins on Nov. 8, which explains their presence here.
The plan on the blog: Teams must declare their inactive players 90 minutes before kickoff. The plan will be to pass along the inactive players around that time, followed by what that means for others on the roster. At halftime, there will be an analysis on the first 30 minutes. At the conclusion of the game, there will be a quick recap, followed by sights and sounds from the postgame locker room. Colleague Chris Forsberg is here and will contribute as well. We will both be on Twitter -- @MikeReiss and @ESPNForsberg -- posting quick hits during the game.