LONDON -- For the New England Patriots, their forthcoming trip to London is a tantalizing opportunity to head into the bye week 5-2. For the Tampa Bay Buccaneers, Sunday will bring hope that a change of continent might bring a change of fortune after their miserable 0-6 start.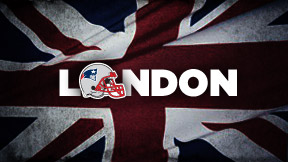 As for the National Football League? The third NFL game to be played in the United Kingdom represents the culmination of seven months of planning and preparation for a showpiece that more resembles a Super Bowl than a simple regular season contest.
Officials at the league's British office are confident that the overseas adventure will be sold out at the 85,000-capacity Wembley Stadium. And to hype up the occasion in a soccer-obsessed country, Sir Elton John has been enlisted as the Patriots honorary captain -- with a pre-game show featuring singers Calvin Harris and Katherine Jenkins.
But, in case anyone forgets, the priority for the principal performers is victory.
Last year, the San Diego Chargers and New Orleans Saints arrived in London six days in advance and engaged in a flurry of promotional and goodwill appearances. This time around, both participating teams won't fly in until Friday.
"It means a few media and other opportunities are sacrificed," said NFL International director of public affairs, David Tossell. "But the most valuable thing for us is that it is a competitive game."
New England's own logistics -- other than the requirement for passports -- are being closely based on last December's Pacific coast swing when the Patriots remained out west in between visits to Seattle and Oakland.
Other than attempting to ensure that there is as little disruption as possible to his daily preparations this week, Belichick has left the nuts and bolts of travel to his operational staff.
"We talk about certain things that we want to try to keep constant on the trips. And we do that as much as we can. It's not always possible to make them all the same based on where the facilities are and where we're going and sometimes the timing changes a little bit," Belichick said Monday.
"Those things are taken into consideration but really all the work has been done by other people in the organization. When they've had a couple questions, they've come to me and said, 'Here's our two options -- we can do A or B.' But usually I go pretty much with what they suggest because they know our team, they know our routine and they know the options better than I do.
"This is a little bit longer trip in terms of flight time and a little bit longer stay than a normal away game, but we'll try to do the best we can to make it as convenient for the players so they can get their preparation, get their rest and be ready to perform on Sunday."
The Patriots will practice Friday and Saturday at The Oval cricket ground in London that has previously also staged baseball and soccer, but never football.
• Organizers in London are also confident that the grass surface at Wembley will cope with the challenges of the NFL. Two years ago, when the Giants met the Dolphins, there was criticism of the turf, which broke up amid a heavy downpour.
"It was a fairly new stadium then and it was a new experience for everyone involved at Wembley," Tossell added. "We don't expect there to be any issue this time around."
Mark Woods is a writer for Britball Media and will file periodic updates from London this week for ESPNBoston.com.