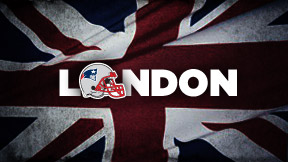 LONDON -- When the New England Patriots run onto the field at London's Wembley Stadium Sunday, there'll be an extra rabid reception from a 173-strong group of fans whose devotion normally requires the use of planes rather than trains and automobiles.
According to the NFL, New England is rated as the most popular team in the United Kingdom (opponents Tampa Bay are ranked 13th), a recognition factor boosted in recent years by regular trips to the Super Bowl. Come rain or shine -- and in London, always expect the latter -- the members of UKPats, a organized booster club, gather together to watch their favorite club, frequently taking trans-Atlantic pilgrimages to Foxborough to profess their faith.
"We usually make trips to see the game as a group, staying near the ground," reveals UKPats coordinator Chris Rice. "It's a yearly thing we organize but on top of that, other people make their own arrangements. So on average, everyone would go and make at least one trip a season.
"Our members are all over the country. We have official events for things like the Super Bowl or the Draft but a lot of people arrange to meet via our website, ukpatriots.com, if individual games are on TV."
Rice's personal affinity with the Patriots developed courtesy of his Bostonian grandfather. For many British fans, their interest was sparked in the eighties when a weekly game was broadcast every Sunday evening on network television. Yet, the sport known here as American football is still very much a minority niche, far adrift in popularity behind the domestic staples of soccer, rugby, cricket and cycling.
The NFL -- which previously funded two British teams in the defunct NFL Europe League -- remains big enough to command a three-game live television schedule each Sunday (split between network and subscription TV), plus a weekly radio show on the BBC. But not big enough to attract a place on the all-important back pages of the tabloids.
"I feel that it's getting bigger," Rice declares. "The Wembley games have shown a very passionate and knowledgeable base of support. We've had more members come on board, people who have just got into the sport. Coming to London has made people sit up and think 'what's this about?' I don't think it will compete at the level of soccer but maybe it will find a bigger niche."
At the very least, Tom Brady has become a regular feature in the gossip magazines, courtesy of the quarterback's union with supermodel Gisele Bundchen. She is the one the infamous London paparazzi will prime their lenses for this weekend, however. To most, he remains 'Tom Who?'
"Tom Brady is such a superstar over there," Rice relays. "I guess there isn't that media crossover here. I guess if I mentioned his name to most people at work, I'd draw a blank. On the flip side, if a footballer like Steven Gerrard (of Liverpool) walked down the street in New York, no-one would know who he was. The only exception to the rule is David Beckham. He's the global superstar. It's strange but this game will maybe make people more aware of who the likes of Tom Brady are."
Being members of an exclusive club will not spoil their fun, Rice adds.
"We're having a party on Saturday night for 600 guests, including a lot from the States. We're hoping Bob Kraft will be coming along, plus some cheerleaders and a few former players. Plus on the morning of the game, we've arranged a tailgating event. For a Patriots fan in the UK, this is as good as it gets."
Mark Woods is a writer for Britball Media and will file periodic updates from London this week for ESPNBoston.com.