LONDON -- After landing early Friday morning in London, New England Patriots head coach Bill Belichick is focusing his attentions wholly on beating Tampa Bay Sunday. But he set aside some time to offer his personal support to the other U.S. team looking for victory in old England this weekend.
The varsity football squad from Kent School in Connecticut will play Saturday against the Filton College Pride -- a junior team from Bristol in the west of England -- in a special challenge game. The hosts, attached to a local prep school, are one of the few academies in Europe that offers specialist coaching to aspiring players. What is being tagged as 'Global Bowl Bristol' will, however, be their first-ever home tie.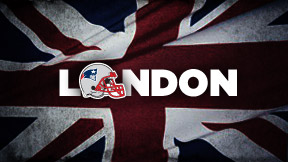 Kent's students have spent the past two days sightseeing in London while conducting practice in the city's Royal Parks. The team's head coach, Todd Marble, admits the visit -- organized by Global Football, a youth program with links to the NFL -- is a dream come true for staff and players alike. However, he was not expecting the telephone call that came into the travelling party's hotel.
"We were dead tired when we arrived," Marble said. "But I got a note from the staff that a coach from the New England Patriots had called. I dismissed it initially. I had met Bill Belichick a few times in the past but I tried to get through on the number and had no success. I was going to leave it but my assistant said 'you oughta keep going'.
"At that point, I had no idea specifically who had called. One of the assistants picked up and about 10 seconds later, Coach Belichick came on the phone. This is a side of him that not many people know about. Every coach respects him beyond words but this is the type of guy he is.
"I'd spoken to him last spring about how we were making the trip to London but for him to take the time to speak with a high school football coach to wish us luck, what can you say about that? When I told the kids, their jaws just dropped. It made an amazing experience all the more exciting."
Patriots left tackle, German-trained rookie Sebastian Vollmer, caught a major break in a previous event organized by Texas-based Global Football when he was scouted by the University of Houston when representing Team Europe in the 2003 NFL Global Junior Championship in San Diego.
"It is incredible to think that 24 hours after our game in Bristol, a German who played on one of Global Football's events will be in the spotlight as a key player on one of the NFL's premier teams," said Global Football President, Patrick Steenberge. "Perhaps we will see a talent emerge from the Filton-Kent game who is also destined to make the grade professionally."
• It is a small footnote in football history but the first Brit ever to earn a Super Bowl ring did so as a member of the Patriots. Scott McCready may have been inactive when New England lifted the Vince Lombardi Trophy with a 20-16 win over the St. Louis Rams in 2002 but he has the jewelery to validate his efforts as a member of the practice squad.
Now based in Abu Dhabi, where he has embarked on a new career as a trainee commercial airline pilot, McCready admits he is disappointed to be missing out on seeing his former team land in his native city. However the Londoner still recalls with amusement the reaction he received when he returned as a NFL champion.
"It's such a big deal in the U.S. and everybody knows what's been done and what it means," he said. "You could be rocking around England with a Super Bowl ring and people would be asking 'what's that thing on your hand?' When it happened to me, it was pretty grounding. People don't have much clue about it. When I was there, the following offseason, I found myself sometimes thinking 'did I dream that? Did it really happen?' But it's great to look back on, being the first Brit to win a Super Bowl ring."
• Officials from Reebok have revealed that Patriots quarterback Tom Brady has the largest-selling replica NFL jersey in Europe. Figures from the apparel manufacturer confirm that Brady outsells second-ranked Peyton Manning, with Eli Manning, Donovan McNabb and Tony Romo completing the top five.
"What we find in Europe is that fans are looking at other items than just jerseys to express their support," said Reebok Europe sales and marketing manager, Bart Cordemeijer. "So we sell a lot of t-shirts and golf shirts with the Patriots being pretty popular there too."
Mark Woods is a writer for Britball Media and will file periodic updates from London this week for ESPNBoston.com.