In a radio interview Monday morning on WEEI's "Dennis and Callahan" program, New England Patriots quarterback Tom Brady talked about Sunday's blockbuster matchup against the 8-0 Indianapolis Colts, an opponent he knows will be well prepared.
"I haven't seen much film on them yet," Brady said, "but they always find a way to do something different when they play us so we've got to be prepared for everything."
[+] Enlarge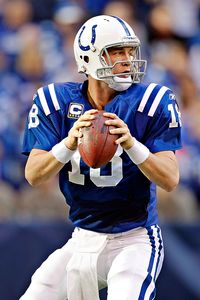 Andy Lyons/Getty Images
Tom Brady knows the Patriots will have their hands full with Peyton Manning on Sunday night.
Indy nearly suffered its first loss of the season Sunday, surviving when the Texans missed a last-second game-tying field goal. Brady doesn't expect any carryover from that close call when the Patriots and Colts meet Sunday night.
"Whatever happened to them [against the Texans] is not going affect our game at all and whatever we did against Miami is not going to affect this game," Brady said. "This game is going to be about what we do from today, when we go into the stadium, to after the game Sunday night. And the time before the game is just as important as the three hours that we're playing."
One of the big storylines heading into the game, as it always is when these two teams meet, will be comparisons between Brady and his counterpart Peyton Manning, who are widely considered to be the top two quarterbacks in the NFL. Both have 16 touchdown passes and five interceptions on the season. Brady talked to WEEI about how much he respects Manning, whom he considers a friend.
"I think every time you play him, and hopefully when a team plays against us, they know what they're going to get," Brady said. "It's not like Peyton is going to go out there and lose the game for the Colts. That's not the way it is. I think when you play him, you've got to realize, you're going to get a guy who's probably going to throw for 300 yards. He's probably not going to throw any interceptions and if you get a chance at one you've got to make a play.
"... He's not going to run the ball into a loaded-up front. If you give him his one-on-one matchup with his best player, that's where the ball is going to go. Everything you ask a quarterback to do, that's what he does."
Brady said he has been able to connect with Manning because the two have a lot in common.
"Obviously, our professions are the same," Brady said. "We're about the same age. We've spent a lot of time together at different places, different events. We have a lot that we like to talk about. We're kind of football junkies and whenever we get together, it's all football. He's just a great player. He's done it consistently for a long time. He's never missed a game, which is pretty unbelievable.
"In order to beat [Manning's Colts], you've got to play a great game," Brady said. "Every time we've played them, we've had to play great. That's what it's going to take."