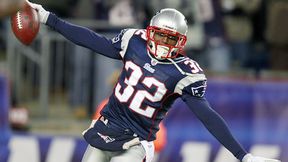 AP Photo/Michael Dwyer
Devin McCourty is ready for his sophomore year.
FOXBOROUGH, Mass. -- After earning Pro Bowl status as a rookie, Patriots cornerback Devin McCourty said he's not worried about the past as New England engaged in its first practice session of training camp Thursday outside Gillette Stadium.
On how he feels entering camp: "Just focused right now, not worrying about anything that happened in the past. Just now, trying to take each day at a time, moving forward. I don't think it matters where I'm at right now, but I'm just trying to progress and keep getting better."
On advice to rookies who lost their summer to lockout: "I told a lot of those guys coming in yesterday just to listen. There's going to be a lot going on around you, but the biggest focus is if you can just listen to every word that all the coaches are saying, all the administrative people, you can start hanging onto stuff and then you can get better, using all the advantages and all the people we have around us."
On Albert Haynesworth as a player: "I don't know much. I just know he's a great player. I haven't really focused on watching him play as a defensive lineman, but I just know he's a good player."
On if an improved pass rush could aid the secondary: "No, as a secondary, we just play. Up front they do their job and the secondary, we do our job, and collectively it comes together and that's how you have a defense."
On undrafted free agent Alex Silvestro from Rutgers: "I played with him. He's a good player, he's a guy that likes to learn, and he's a hard worker, so I'm excited for him to get out here, and kind of show what he can do. And coming from the same school, it's always good to see a familiar face."