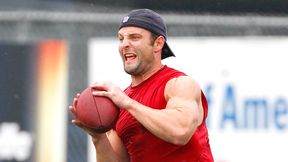 AP Photo/Steven Senne
Wes Welker is excited about adding Chad Ochocinco to New England's wide receiving corps.FOXBOROUGH, Mass. -- Patriots wide receiver Wes Welker expressed excitement upon hearing news the team acquired wide receiver Chad Ochocinco and hopes he brings many of the same elements that made him noteworthy both on and off the field in Cincinnati:
Welker on the Ochocinco trade: "I was excited. Having a guy like that to make plays for us out there is big. We're excited to have him and we're hopeful to see some of the things he was able to do in the past when he was with Cincinnati and bring it over here to New England."
On Ochocinco's reputation both on and off the field: "I always thought it was funny and all the stuff was pretty comical to me. I never saw it being detrimental to his team or anything like that. We see him being a good teammate and playing a good role on our team and making plays for us like he has over the past 10 years or whatever... I welcome it. I always like to have fun with it. We'll keep it at a reasonable level and have fun. We'll enjoy each other and play some good football."
More Welker on Ochocinco: "We're excited to have him. Hopefully we'll come together and make some great plays out there... He works hard and goes out and gives his best effort. He's an early riser and likes to get after it and that's what I like. He's a great player and he's shown that over the years and hopefully he'll make some big plays for us and keep us moving forward in the right direction."