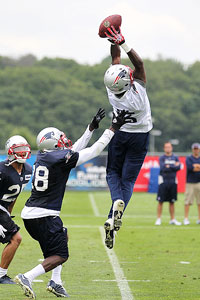 Jim Rogash/Getty Images
Chad Ochocinco at work with the Patriots on Friday.FOXBOROUGH, Mass. -- Newly acquired Patriots wide receiver Chad Ochocinco closed his first confab with area reporters Saturday by asking for a group hug. Along the way, he talked about getting his "angel wings" from owner Bob Kraft and coach Bill Belichick, suggested he'd be a "chameleon" while buying into the Patriot Way, and joked about lending tight end Aaron Hernandez his Toyota Prius on weekends in exchange for giving up jersey No. 85. Here are some highlights from Ochocinco's introduction:
On coming to New England: "The first meeting, as soon as I got here, with Mr. Kraft was unbelievable. Unbelievable. He welcomed me with open arms and I spoke with coach Belichick, he did the same. We had our normal talk, normal chat when I've had a chance to play against him, it sorta went the same way. Other than that, I'm ready to rock n' roll."
On embracing the Patriot Way: "I'll always be me, it's been a part of my game. But there's a certain way that the Patriots do it. For me, I've always been a chameleon, so I'm going to stand in and do it the Patriot Way... I'm happy to be here. I'm going to be a little quiet, you won't get the same Chad you're used to and I probably won't be talking to the media much, probably not at all, really. I'm going to play ball and ride the wave, man."
On securing jersey No. 85 from Hernandez: "Nothing [exchanged]. It was Mr. Hernandez's way of greeting me here. He gave me the number, I didn't have to pay anything. I just shook his hand and said, 'Thank you.' I was probably going to give Mr. Hernandez -- I drive a Toyota Prius -- so I was going to let him use the Prius on the weekend. That's the best I can do right now, and I have some leftover McDonald's coupons."
On his relationship with quarterback Tom Brady: "Me and Tom are cool, we are really cool. It's been a joy. I don't get to talk to him much, except when we did play them. We have conversations off the field, on the field. I respect him, he's the best at his craft. I've always called him, 'The Surgeon.' It's going to be fun."