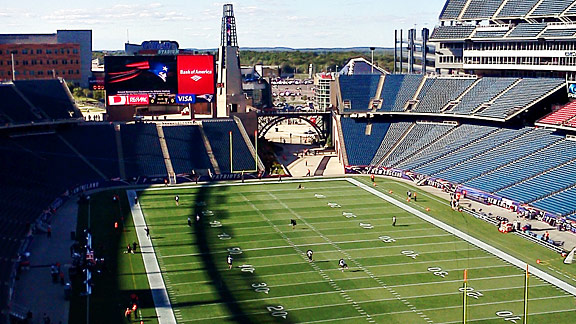 Mike Rodak/ESPN Boston
A look at Gillette Stadium before Thursday's exhibition opener.FOXBOROUGH, Mass. -- Welcome to Gillette Stadium, where the Patriots host the Jaguars in their preseason opener (WBZ, 7:30 p.m. ET).
Mike Rodak/ESPN Boston
A glance at the cover of Thursday's Gameday program celebrating a new season of football.Weather conditions. It's a beautiful evening for football in Foxboro. According to Weather.com, temperatures are expected to drop from the low 70s to the high 60s as the game progresses. Skies are clear and humidity is low (dew point 50 degrees).
Hochuli gets the call. Tonight's referee is Ed Hochuli, in his 22nd year.
Players not expected to play. Players not expected to be in action for the Patriots tonight include DT Albert Haynesworth and LB Brandon Spikes, as well as rookies CB Ras-I Dowling and RB Shane Vereen. A full list of players out of action could be released by the team closer to game time. For the Jaguars, tenth-overall pick Blaine Gabbert will get the start at quarterback.
Scouts in the house. There are scouts from 15 NFL teams expected to be in attendance tonight, including AFC East rivals Miami and the Jets. This is typical for the preseason.
National anthem. Tonight's national anthem will be performed by Jennifer Joy of Wilmington, Mass.
Fans make program cover. The official game program tonight has the headline "Back to Football" and a picture of Patriots fans celebrating at a game.