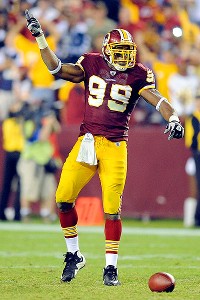 G Fiume/Getty Images
Andre Carter during his time with the Washington Redskins.FOXBOROUGH, Mass. -- Defensive end Andre Carter is in his 11th NFL season, having spent five seasons apiece with the San Francisco 49ers and Washington Redskins.
Now in his first season with the Patriots, one thing stands out from being around Bill Belichick.
"I've probably had five or six head coaches and that's a lot of head coaches in 11-year span. But, by far, I see why he's successful, why he's an X's and O's guy. From special teams to position meetings to just detail in general, I've never seen a coach so hands on," Carter said Thursday in remarks that are included in Chris Forsberg's piece on ESPNBoston.com.
"It's great because he takes pride in his job, he takes pride in his craft. I think he also wants the players that he has on the team -- whether it's the 90-man roster in training camp, to the [final] 53-man roster, prepare themselves for a great game, week after week after week."
Carter has also taken note of how the Patriots keep a short-term focus, with Belichick setting the tone.
"I think, first and foremost, we always just focus on today. What can we learn from today," he said. "Most important is how we're growing as a team. There is always opportunity to get better, always opportunity enhance your technique and skills. That's one thing I enjoy about this team, we are constantly pushing each other to the limit. When you think you can't go any further, there is always a little bit more."