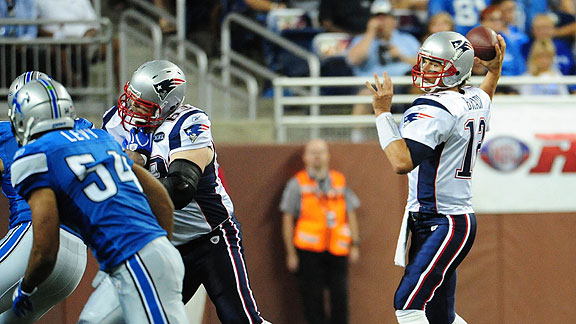 Tim Fuller/US Presswire
One of the few times Tom Brady wasn't pressured Saturday.New England Patriots quarterback Tom Brady admitted he missed open receivers while laboring in Saturday's 34-10 exhibition loss to the Detroit Lions. Brady completed 12 of 22 passes for 145 yards, including a 44-yard touchdown strike to Wes Welker, but also got sacked twice, fumbled once, and threw an interception that left Welker shaken up late in the first half after making the tackle:
Some highlights from Brady's postgame Q&A:
On the Patriots' performance: "Well, wasn't our best game, obviously. From the [offense's] first series on, we could never get into a rhythm -- just a bad night all around. We don't make excuses for it, it just wasn't a good night. We didn't play the way we needed to play. I missed open receivers and the careless interception there [at the end of the first half], you're not going to win games if you play like that. There's only one way to get better, get back to practice, get back to work, and improve the things we didn't do very well and hopefully we play better next week.
Brady on Detroit's defensive pressure: "I think we were trying to get the ball down the field a little bit, so you're going to hold it. They have a good pass rush and we held up out there, for a decent amount of time, but I gotta do a better job of making quicker decisions, getting rid of the football and getting it to the guys that can do something with it."
On rebounding from a lopsided loss: "I don't necessarily think losing games and playing poorly ever helps. I think we have to understand, like every week, when you play well, there are things you need to do better. When you lose, there are things you need to do better. We don't want to ride the wave of emotions: 'We're great and we suck; We're great and we suck.' We are confident as a team, we just have to go play better."
On a quiet night for Chad Ochocinco: "We communicate quite a bit, that's what it takes. He hasn't had the luxury of an offseason program, so we're trying to cram a lot of stuff in. He's very receptive, very competitive. He wants to do the right thing, he wants to do it well. We all do. That 's what we're working towards. I wish I could say that we could go out there and every single thing would be perfect, every single game we play, every snap, and every drive we score a touchdown and never have negative plays. Look, it's football. When you make a bad play, you gotta overcome it, there's resiliency that comes into the game, mental toughness."
On Wes Welker's neck injury: "Well, we'll see. I'm not sure. He's a tough guy; Nobody is tougher than Wes Welker. Mentally, physically, he's as good as there is. He's a big part of our offense, a huge part of our offense."
On potential playing time in the exhibition finale: "I hope so. I'd love for us to get out there and play a lot better than we played tonight. There's a lot of us itching to get back on the field. After days like this, you want to get back on the practice field. You want to see the film, figure out the technique errors, the decision-making errors and make those point of emphasis, then come out and try to practice better... It'll be good to get out and practice, we'll try to get out there and do a better job."