With seventh-year veteran James Sanders informed of his release on Monday, here is a look at the Patriots' depth chart as they head into the final week of the preseason: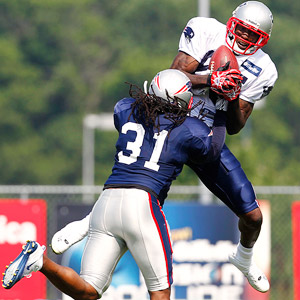 AP Photo/Winslow Townson
Brandon Meriweather provides the coverage during training camp.Brandon Meriweather -- Former first-round pick is in the final season of his contract, and it would not be a stretch to believe the team hasn't gotten what they wanted out of him to this point in his career. He remains a trade possibility, but for now is penciled in as an opening-day starter.
Patrick Chung -- Third-year safety came on strong early last season before having to battle a knee injury down the stretch. He has been rotated out of his starting role at times this training camp and preseason, but the future still looks bright for the former second-round pick.
Sergio Brown -- Undrafted free agent worked his way onto the 53-man roster midway through last season, and has seen some playing time with the top defensive unit this preseason. Still a relatively unknown commodity, Brown could be slated for more of a role in the defense.
Josh Barrett -- Physically the largest safety on the roster, Barrett saw time at linebacker early in training camp before missing several weeks with an injury. He has returned to practice, but his best shot at making the final roster is as a core special teams player.
James Ihedigbo -- Signed on Aug. 19, Ihedigbo brings some experience to the defensive backfield, having played three seasons for the Jets. However, like Barrett, his best fit on the roster would be in a special teams role.