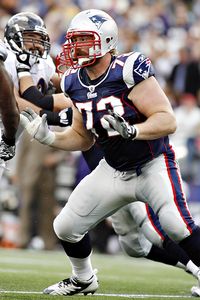 Stew Milne/US Presswire
Matt Light at work for the Patriots.FOXBOROUGH, Mass. -- Even with 10 NFL seasons under his belt, New England Patriots left tackle Matt Light stressed Tuesday that reps remain integral to preparing him for the regular season.
"Regardless of how many times you've done it, repetition is really what gives you that confidence, it gives you the ability to go out there and do what you do," Light said while tackling football questions before the Patriots' Kickoff Gala at Gillette Stadium. "Some guys can go out there, walkthrough it and it just probably happens for them; Others like myself, I need the reps. It feels good to be back out there."
Light engaged in his first action of the preseason Saturday in Detroit, playing two series at left tackle before being replaced by rookie Nate Solder.
"It was good to be back out there," said Light. "The preseason is all about fine-tuning all the little things and doing what you gotta do. No matter how long you've been doing it, it's always good to go out there and get those reps when it's a game that you can work on all those little things. Obviously, it didn't go the way we wanted it to as a team, overall, but for a lot of us, it was a chance to get out there, take a few more reps, get in tune with everything, and keep building for what's going to be eventful, long season, like it always is."
After a summer of uncertainty, Light inked a two-year, $12 million deal to return to New England. He acknowledged earlier in training camp that Solder will one day take over "for these old bones," but Light's veteran presence continues to anchor an offensive line in charge with keeping quarterback Tom Brady clean.
Light, who has missed only 20 games over his career, 13 of which came in one season, said he's feeling about as good as he can at this stage of his career.
"I feel pretty good," said Light. "I don't know how fine you can feel at [age] 33 and 10 years in the National Football League, but yeah, I feel good."