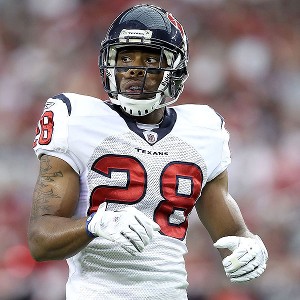 Christian Petersen/Getty Images
Antwaun Molden with the Houston Texans.
The Patriots claimed cornerback Antwaun Molden on waivers from the Houston Texans today, according to a league source.
The 26-year-old Molden entered the NFL in 2008 as a third-round pick out of Eastern Kentucky. He has not started a game over the last three seasons, appearing in 32 contests.
This marks the second straight year the Patriots have claimed a player from the Texans. Last year, the team claimed offensive tackle Steve Maneri after the Texans waived him.
The Patriots will have to make a corresponding roster move to make room for Molden (6-1, 200), who joins a cornerback group headlined by Devin McCourty and Leigh Bodden, with Kyle Arrington, Darius Butler and Ras-I Dowling also on the depth chart.
Bodden has been sidelined with an undisclosed injury since the team's second preseason game against the Buccaneers.