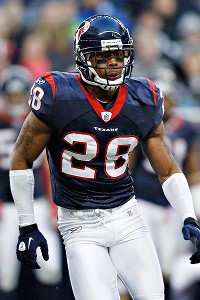 Brett Davis/US Presswire
Antwaun Molden at work with the Houston Texans.FOXBOROUGH, Mass. -- One of the more impressive individual performances in the Patriots' preseason finale was delivered by cornerback Antwaun Molden.
The former Houston Texan was claimed on waivers Wednesday, arrived in town at 1:30 on Thursday morning, then played in the game and registered two passes defended. Molden's playing time came early -- he entered on the fourth defensive play in a sub package -- in part because Kyle Arrington was knocked out of the game on the opening kickoff (an injury that isn't expected to be a long-term situation).
In all, Molden (6-1, 200) was on the field for about 15 first-half snaps, before playing throughout the second half. It was a good chance for the Patriots to evaluate him.
"He's a big corner," coach Bill Belichick said after the game, when asked what the Patriots liked in Molden. "He's an athletic guy who can run, and he plays in the kicking game."
Belichick and the Patriots have had their eyes on Molden since 2008 when he was a third-round draft choice out of Eastern Kentucky. Molden said that he came to Gillette Stadium for one of the team's allotted pre-draft visits that year.
The Patriots ended up selecting cornerbacks Terrence Wheatley (2nd round) and Jonathan Wilhite (4th round) in 2008; both have since been released.
Molden's first impression was a good one.
"It's a new environment, new faces," Molden said. "I'm like the new kid on the block. I'm definitely blessed."
Molden's reaction when the Patriots claimed him on waivers?
"Thank God," he responded. "Usually it's not that quick of a turnaround for players on the waiver wire. It's no joke, it's stressful. I'm fortunate that Bill Belichick and his staff picked me up and we'll see what happens tomorrow [with the final roster cutdown]."