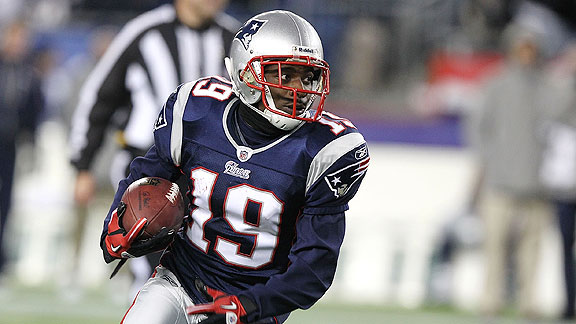 Al Pereira/New York Jets/Getty Images
Could Brandon Tate be one of the Patriots cuts on Saturday?
During his conference call with the media Friday, Patriots coach Bill Belichick was asked who might handle kickoff returns when New England travels to Miami for opening night on Sept. 12. It was somewhat telling in his response that Belichick didn't mention Brandon Tate, the third-year wide receiver who almost exclusively owned kick return duties last season.
"Well, we have a number of guys that have done it on this team, so I'm sure it will be somebody from that group," said Belichick. "We just have to figure out how it all fits together in terms of our gameday roster and how we want to break those responsibilities up -- not only who can do it, but how to divide the responsibilities up for the game so that we give everybody, hopefully, a good role and try not to overload any one individual with too much stuff. So we try to find that balance and still get good people or get our best people out there, hopefully, doing what they do well."
Not only did Tate serve as New England's No. 3 receiver last season, he handled 41 of New England's 56 kickoff returns, averaging 25.8 yards per return (sixth best in the NFL), taking two back for touchdowns in the opening weeks of the season. The job was almost solely his, with wedge blockers Sammy Morris, Dan Connolly, and Alge Crumpler fielding 13 of New England's other 15 kickoff returns (Dane Fletcher and BenJarvus Green-Ellis falling on two others).
Now, with the Patriots preparing for a final cutdown, Tate faces the very real possibility of being the odd-man out at wide receiver, particularly given his lackluster special team efforts since a red hot start last year.
After returning 18 kicks for 601 yards (33.4 yards per return) and two touchdowns over the first four weeks of the 2010 season, Tate returned 28 kicks for 564 yards (20.1 yards per return) in 12 games after. This preseason, he brought back a team-high five kickoffs for 85 yards, merely 17 yards per kick (his long of 25 failing to even match his average from last season). Tate also returned four punts for just 10 yards.
Given the changes to kickoffs this season (teams now boot five yards closer), it makes you wonder if Tate's receiver skills (3 catches, 41 yards this preseason) is enough to help him stick.
Tate does have his supporters. ESPN.com's K.C. Joyner identified Tate as New England's "V-Factor" in a recent ESPN the Magazine story identifying players that, like Michael Vick, are home run threats for their team. Writes Joyner:
Want to know how Tom Brady tied for second in the NFL in yards per stretch vertical attempt (20-plus yards)? Look no further than Tate. His ability to break open on corner, post and go routes was key to the two-year pro catching six of 12 stretch vertical targets for 241 yards and two TDs last season.
Tate caught 24 passes for 432 yards with three touchdowns last season. But like with his kickoff returns, his production diminished as the season wore on. According to stats logged by Pro Football Focus, over Tate's final nine games, he caught only nine passes in 20 targets, all three of his drops coming in that span (conversely, all three receiving TDs came Week 8 and later).
Maybe the most telling moment came in Thursday night's exhibition finale against the Giants when New York's Da'Rel Scott broke free on a fake punt. Tate, back to return the would-be punt, had a chance to make the saving tackle, but Scott motored away from him. Earlier in the game, on a punt return, Tate got chased down by Giants long snapper Zach DeOssie. The extra gear that Tate boasted at the start of the 2010 campaign simply seems to be missing early this season.