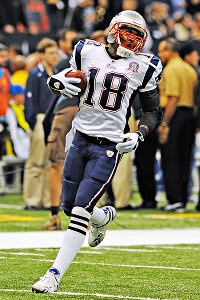 Al Messerschmidt/Getty Images
Matthew Slater's versatility has helped him stick in New England.To the casual fan, he's a wide receiver who doesn't receive. Heck, in three pro seasons, Matthew Slater has only been targeted four times in limited receiver reps. But even the untrained eye can't help but notice how frequently No. 18 appears on special teams duties and it's that versatility and ability to carve out a niche that has allowed Slater to avoid the early September chopping block.
After another solid preseason, Slater hopes that luck continues Saturday as the Patriots make final cuts with eyes towards reaching the league-mandated 53-man limit. With the team facing tough decisions at that receiver spot, coach Bill Belichick wasn't bashful in admitting that Slater's versatility has gone a long way towards making him more valuable to the team.
"I think [Slater's versatility] has helped him a lot," Belichick said during a conference call Friday. "The more things a player can do and the more ways a player can contribute, the more value he has. And Matthew's such a hard working player, nobody outworks him. He's gotten better every single year and we've moved him around a little bit. We've played him at safety. We've played him at receiver. He's done some kickoff returns. He's been a short returner. He's been involved in all the other phases of the kicking game as well. But he keeps working hard. He gets better and he's had a real good training camp. The versatility helps him and the fact that his performance has been good, that helps him too, so he's got some things going for him."
A mainstay on three special teams units, Slater, a fifth-round pick out of UCLA in 2008, boasts 41 special teams tackles over the past three seasons, including a team-high 21 tackles last season. Before wide receiver Brandon Tate cemented himself as kick returner last year, Slater got a chance to return kicks and was largely underwhelming (averaging 19.3 yards per return in 22 returns over his first two seasons, a long of just 35 yards) and always seemed to get hit pretty hard during those returns.
But with Tate seemingly on the bubble this year, it might be Slater's versatility and ability to handle multiple special team roles that gives him the better chance of sticking (and maybe even be back in the mix for kickoff return duties). While Tate continued to struggle with returns in Thursday's preseason finale against the Giants, Slater earned early reps at wide receiver and took advantage with plays like a 64-yard catch and run.
"I was just trying to do what I could to get open and [quarterback] Tom [Brady] saw me late, he put it on me and I just tried to make a play," Slater said of his long grab. "But like I said, I just feel real fortunate to have been able to have been out there tonight and hopefully show a little bit of what I can do and thank God for the opportunity."
The downside for Slater: He talked openly about his friendship with Tate and the locker neighbors are vying for limited spots at the end of a crowded receiver depth chart. Slater might not have the overall receiver/returnman talents of Tate, he's made himself practically indispensable as a cover man (and has the ability to be an emergency safety).
"Brandon is a great guy, he's a friend of mine, he's a great teammate," said Slater. "I have a lot of respect for him and I feel like he has a lot of respect for me and all those guys in that room. We're all competing for the same jobs, but at the same time, we have mutual respect for one another, we're friends. Outside of football, life going on, we have quality friendships that will endure."