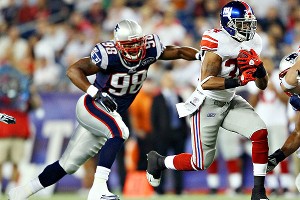 Elsa/Getty Images
Defensive lineman Eric Moore was among Saturday's noteworthy cuts.The Patriots have been informing some players of their intentions to release them by today's deadline, and the most notable known name at this point is veteran defensive end Eric Moore.
Moore had been working with the first unit at left defensive end for most of training camp, but his hold on a roster spot came into question during the fourth preseason game when Shaun Ellis and Mike Wright played for the first time, both at left end.
Prior to that point, it was unclear where the Patriots envisioned Ellis and Wright fitting in to the revamped defense, and the new information altered the look of ESPNBoston.com's final dueling roster projections (both projections had Moore cut).
Other reported cuts include defensive end Markell Carter, defensive end Alex Silvestro, linebacker Aaron Lavarias, defensive tackle Landon Cohen, running back Eric Kettani, linebacker Niko Koutouvides and receiver Tiquan Underwood. All were expected.
The plan from here will be to update any notable cuts over the course of the day.