Some instant analysis of the Patriots' roster moves: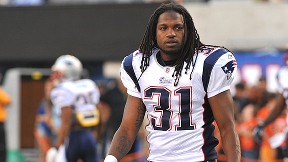 Al Messerschmidt/Getty Images
The biggest news of the day: Safety Brandon Meriweather released.1. The biggest news of the day is obviously the release of 2007 first-round draft choice Brandon Meriweather. Not the way Bill Belichick drew it up, releasing a top draft pick entering his fifth season. Belichick takes the hit for that. This opens the door for third-year man Patrick Chung to become more of a leader, which the coaches seem to be positioning him for, and assuming there is not another roster move, thrusts second-year man Sergio Brown, fourth-year player Josh Barrett and fifth-year man James Ihedigbo into larger roles than initially assumed. Of all the moves, the new look at safety stands out the most.
2. Heavier on defense, with 27 players, and the numbers higher than expected at linebacker (7) and cornerback (6). The surprise is rookie free agent linebacker Jeff Tarpinian (Iowa), who has missed most of camp with an injury. At cornerback, Darius Butler and Antwaun Molden stick for now, upping the numbers.
3. Light at tight end (2), the Patriots are probably banking on either Will Yeatman and/or Lee Smith clearing waivers and returning to the practice squad. If they don't, and veteran Alge Crumpler is healthy, that possibility could potentially be explored after Week 1.
4. Light on the offensive line (8), especially considering some of the current injury concerns. This looks like an area that could be fluid, with an addition in the coming days. If the Patriots make an addition, Tarpinian could land on injured reserve so the Patriots can protect a player they obviously view as an asset.
5. Deep along the defensive line. That's a strong 10. Some had veteran end Mark Anderson on the bubble, but as long as his knee is healthy, the feeling here is that he could help as a third-down speed rusher (upgrade over Tully Banta-Cain).
6. WR Matthew Slater, LB Tracy White and S James Ihedigbo project as core special teamers, highlighting the importance of fourth down on the final 53-man roster. Those were considered bubble players by many.
7. Three quarterbacks is a change from the past two years. The Patriots had to trim in other areas where they might keep an extra player (running back and tight end come to mind) to accomodate.