Leftovers nuggets after the Patriots conducted conference calls Tuesday with coach Bill Belichick, offensive coordinator Bill O'Brien, and director of player personnel Nick Caserio: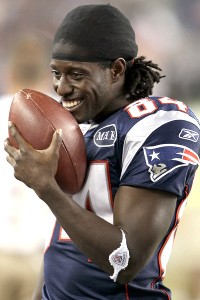 Elsa/Getty Images
Deion Branch had a quiet preseason for the Patriots.
1. Branch's quiet preseason in focus ... again: Patriots wide receiver Deion Branch didn't catch a single pass this preseason, but you can add Belichick to the list of people unfazed by the reception shutout.
"I think Deion has had a pretty good camp, hasn't missed any time at all, and that was something he wasn't able to do last year," said Belichick.
"I think he's in position, based on what I've seen so far and what he has done in training camp and preseason, I think he's ready to have a good year. [Branch] works hard, gives us good leadership at that position, very smart player, instinctive player, knows what to do, does the right thing, and is very dependable. I think everybody in the organization feels good about counting on Deion. He's a very consistent guy every day. Every time the ball is snapped he almost always does the right thing, does it the way you want him to do it. We all have a lot of confidence in Deion."
2. O'Brien elaborates on wide receivers: When asked about the lack of production for his receivers -- with a focus on Branch -- O'Brien suggested you can't just look at preseason game stats.
"We view production on a daily basis [in] practice and in games, so as it relates to everybody at that position... I think there has been production with each guy, each day with maybe one more than the other on a certain day or [in] a certain game," said O'Brien. "But as we go forward here Deion will be, as with all the receivers on the roster in Deion, Wes [Welker], [Chad Ochocinco], [Matt] Slater, Julian [Edelman], Taylor [Price], those guys are all going to be looked to, to contribute to the game on a weekly basis."
3. Will Spikes be ready for Week 1?: Patriots second-year linebacker Brandon Spikes missed extended time this preseason with an ankle injury. While he previously expressed hope in being ready for Week 1, Belichick was noncommittal.
"I thought Brandon got off to a good start in the preseason and then he missed some time and so he's a little behind with the time that he missed, but he's back on the field now and working hard on getting back," said Belichick. "His conditioning, all his timing and all those things. We'll see how quickly he can get back to where he was at a few weeks ago. It's unfortunate that he missed a little bit of time because he was doing well, but he's back out there now and looks like he's doing OK now. We'll see how quickly he can get back up to that level, that speed."
4. Keep the Light on: O'Brien kept it short and sweet while expressing no worries about 33-year-old left tackle Matt Light and the shoulder injury that kept him sidelined early in training camp.
"Matt Light, as you guys know, has played a lot of good football for us and he's had a good camp, and he'll be ready to go," said O'Brien.
5. Barrett in focus: Earlier in this space we highlighted Josh Barrett's background as he preps for a potential larger role in an overhauled safety position. Caserio offered his thoughts Tuesday.
"Josh was a player coming out of Arizona State -- a productive player -- both defensively and on special teams," said Caserio. "Then when Josh played when he was in Denver, he actually played quite a bit defensively in addition to playing in the kicking game. He's big, he's fast. He showed up in a couple different capacities, so we felt he was a good football player. We felt it was an opportunity for us to improve our team and that's why we went and made the decision [to sign him when Denver waived him last August].
"I think with really any player, you're taking sort of a composite of the information that you have accessible. For example, [special teams] coach [Scott] O'Brien had Josh in Denver, so there's some information that Scott was able to provide for us."