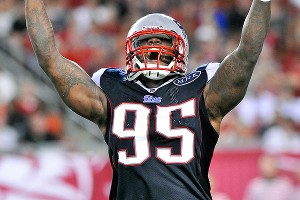 Fernando Medina/US Presswire
Patriots DE Mark Anderson is ready for game action.FOXBOROUGH, Mass. -- The question many Patriots followers asked all offseason was, "Where's the pass rush coming from?" To the surprise of some, Mark Anderson is part of the answer.
The former Chicago Bears and Houston Texans defensive end has assumed the role previously occupied by Tully Banta-Cain, entering in sub packages and rushing off both edges. The results have been good, Anderson showing solid quickness and technique, especially in the preseason opener against the Jaguars.
Still, some had Anderson on the roster bubble at the final cutdown.
"It wasn't anything I haven't been through before, you can't worry about that," Anderson said Friday. "You just have to continue to do your assignments, work hard, and everything will play out."
It's played out nicely for Anderson, outside of having his knee flare up after the third preseason game, which forced him to miss the preseason finale. Anderson (6-4, 255) likes what he sees from the Patriots' defense.
"I feel we're a great defense and I feel we have a lot of key players, a lot of people who can do a lot of different things," he said. "We just want to go out there and ball out."
Anderson described the mentality of the defense as a unit that is focused on stopping the run first, before getting after the quarterback and causing havoc so defensive backs can intercept passes. When it comes to creating havoc, Anderson was at his best as a rookie in 2006 when his primary responsibilities were rushing the passer. It looks like that will be his primary job with the Patriots.
Assuming his knee responds well, Anderson hopes to bring the heat in Miami, knowing that the heat itself could be a factor that leads coach Bill Belichick to rotate his linemen.
"We're ready. We've been working hard. It's the first game, we've going through training camp preparing for these guys," he said. "It's my sixth year, I've already been [in this situation] before. I know the mentality, just going out there and being ready."