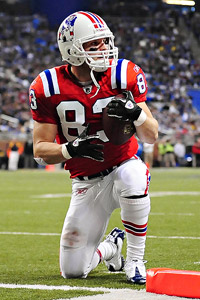 Andrew Weber/US Presswire
Wes Welker and the Patriots have thrived with intermediate routes.If there's one criticism of the Patriots' receiving corps it's that the unit lacks a true deep threat as top personnel Chad Ochocinco, Deion Branch, and Wes Welker tend to thrive in the intermediate passing game based on crisp route running. Should that be a concern entering the 2011 season? Maybe not against Miami.
According to the wizards at ESPN Stats and Info, Patriots quarterback Tom Brady attempted 40 passes against the Dolphins last season and only two of them traveled 15 yards or more. In fact, all 24 of Brady's pass attempts during a 41-14 Week 4 win, and 14 of 16 attempts in a 38-7 Week 17 triumph, were shorter than 15 yards. By comparison, Brady attempted at least three passes of at least 15 yards in every other game last season.
Brady, who enters the 2011 campaign having not thrown an interception in an NFL-record 335 straight regular-season attempts, has a good chance of extending that streak by avoiding the long ball. Three of his four interceptions last season came on routes of 15 yards or more (the other came behind the line of scrimmage). A focus on shorter routes could also aid the Patriots' offensive line in limiting Miami's pass rush.
It should come as no surprise that Welker has thrived on underneath routes. According to ESPN Stats and Info, 85 percent of his targets since the 2008 season have come within 14 yards of the line of scrimmage. In fact, over the past three season, Welker leads all receivers in targets of 14 yards of fewer downfield, with 51 targets against the Dolphins alone, the most of any opponent (Welker has been targeted a total of 393 times during that span; Miami's Brandon Marshall is second at 345).
Conversely, the Patriots will be looking to make Chad Henne and the Dolphins throw the ball downfield. In two games last season, Dolphins quarterbacks completed a mere 8 of 24 passes on throws of 11 yards or more with one touchdowns and three interceptions. According to ESPN Stats and Info, Miami quarterbacks posted the lowest completion percentage (33.3 percent) and yards per attempt (6.7) and threw the most interceptions (3) of any Patriots opponent on throws of over 11 yards.
One other passing nugget from our stats gurus: Expect the Patriots to force the Dolphins to throw the ball to the sidelines. The Patriots led the league with 25 interceptions in 2010, 12 of which came on passes to the sidelines. Dolphins quarterbacks, meanwhile, combined to throw 10 interceptions on sideline passes, the most in the AFC.