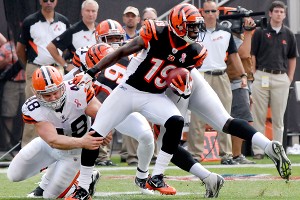 Tom Cammett/Diamond Images/Getty
Brandon Tate at work for the Cincinnati Bengals.
FORT LAUDERDALE, Fla. -- A look at how some players who were with the Patriots in training camp, and have since landed with other teams, fared in their debut performances in Week 1:
Thomas Austin (Texans) -- Offensive lineman is inactive in 34-7 blowout of the Colts.
Darius Butler (Panthers) -- Cornerback is active and plays sparingly in 28-21 loss to Cardinals, and doesn't show up on stat sheet.
Mark LeVoir (Ravens) -- Offensive lineman is active as a backup in 35-7 win over Steelers.
Steve Maneri (Chiefs) -- Offensive tackle dresses but does not play in 41-7 loss to Bills.
Brandon Meriweather (Bears) -- Safety plays in a reserve role and finishes with 2 tackles as Bears roll over the Falcons, 30-12.
James Sanders (Falcons) -- Safety doesn't start and doesn't show up on the stat sheet in Falcons' 30-12 loss to the Bears.
Lee Smith (Bills) -- Rookie tight end is inactive in 41-7 win over the Chiefs.
Brandon Tate (Bengals) -- Receiver is active and handles punt returns and kickoff returns in 27-17 win over Browns; finishes with 1 punt return for 15 yards and 3 fair catches, and has four kickoff returns for 92 yards, with a long of 35.