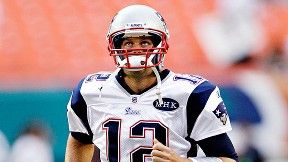 AP Photo/J. Pat Carter
Tom Brady sported a new helmet Monday night.FOXBOROUGH, Mass. -- Those watching quarterback Tom Brady closely in Monday night's season-opener probably noticed something different. He was wearing a new helmet.
Camera shots of the helmet showed blue padding on the inside, and Brady was asked about the change on Friday.
"I've been wearing an older helmet for a long time," he explained. "Some of the newer ones, I guess, are safer. I've been experimenting for a few years and trying out some different ones. The one I've found is newer and it feels like my old one, which is why I like it."
The idea is for Brady to find the right comfort level with a helmet so it doesn't affect performance, while at the same time protecting himself from injury.
"I've been very lucky over the years, so that's part of the big hesitation of changing -- I've never had a concussion," he said, knocking on wood on his locker. "I was always like 'They're safer, but obviously this [old] one is doing a decent job.' I'm still looking at other ones too, to see if they may be better or more comfortable, or perform better."
Monday night marked the first time Brady wore that particular helmet in a game, and he produced a franchise-record 517 passing yards. He had worn the helmet in practice before.