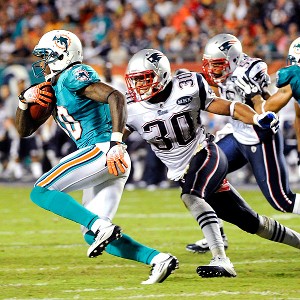 Icon SMI
Patriots safety Josh Barrett in action Monday.FOXBOROUGH, Mass. – Safety Josh Barrett has settled into Brandon Meriweather's old locker at Gillette Stadium, while also taking his place on the field.
Barrett was one of the surprises of the Patriots' season-opening win over the Dolphins, starting at Meriweather's old safety spot. He played about half of the defensive snaps and was credited with four tackles, while also contributing on three special teams units.
The 26-year-old Barrett, who grew up in Reno, Nevada while also spending time in Houston, comes from an athletic family. His father, Grieg, played basketball at Nevada, while his cousin, Jerald Moore, was a running back with the Rams (1996-98) and Saints (2000).
Barrett came across as humble, confident and appreciative of what he has when sharing his "football journey" with ESPNBoston.com this week.
When he first started playing football: "I started at a young age, Pop Warner. It was probably around 10 years old. I started because my friends were playing, and was a running back and safety. From there, I never really stopped."
NFL teams he followed in Reno: "The Bay Area teams were closest, so you followed them. I was more of a players guy. Barry Sanders was one of my favorites. Then it was almost like each year, I had a new guy."
Mentors over his career: "Coaches when I was young. Obviously, a lot of my family members, my dad and my uncles. Even cousins. I've been very, very blessed to have a strong family unit and extended family unit, so it's something to where I've had plenty of people supporting me. It's been more than enough role models to look at and say, 'This is the way to do things.'"
Top memories of playing at Reno High School, where he was Northern Class 4A Player of the Year as a senior: "Unfortunately, it's the last game of my career which we lost to the eventual state champions in the semi's. That still sticks out in my mind. But it's also the relationships that you build. I'm still best friends with guys I played with in high school. We had some competitive teams, but never quite got that state championship we were after. We had quite a few guys play college football, and it's still a good program today. I have a lot of pride in how I developed and where I came from."
Choosing Arizona State, when he switched to safety full-time: "I had a few different offers. I was actually ready to commit to Rice, to go back down to Houston, but then after my trip to 'A State' I was compelled. They had a great program and I took full advantage of that opportunity."
Top memories at Arizona State: "On the field, it's such a big transition from high school so you're really working year-round. It's really a lot of work and they really demanded a lot of you as an individual. On the field, it was pretty special. We had some big wins and some really competitive teams. One memory that sticks out in my mind was up at Washington where we played really well my junior year – had a couple picks and got Pac-10 Player of the Week. It was just a good team performance, and to be recognized individually, it was something special."
Seventh-round pick of the Broncos in 2008 after running a 4.35 in the 40 at the combine: "It was a complete blessing. I broke down, was pretty emotional when I got that call. I saw it as an opportunity and a stepping stone, regardless of where I was drafted. It was a dream fulfilled from being young of wanting to play and follow in guys' footsteps and put on a professional jersey."
Summing up his two seasons with the Broncos (20 games, 3 starts): "It was a great introduction to what is demanded of you in professional football. I got a chance to be with guys who have been in the league for years, with a tremendous amount of knowledge who had a great approach to the game. That obviously led to where I am today, so I'm very thankful."
Unexpectedly being claimed by the Patriots on Aug. 6, 2010 when the Broncos waived him with the intention of placing him on season-ending injured reserve: "I was excited, man. I was really excited, because I knew of the reputation they had, and you want to be a part of something special. Even though I was injured, I still saw it as a good thing. The toughest thing about the season was being injured and it's just so long. You do everything you can to get back, but not being able to have that camaraderie in the locker room and be there on Sundays, that excitement, you're missing it. You can't wait to get back."
What he's learned about the Patriots since: "You see guys doing extra stuff, and see how that extra stuff translates on to the field."
The role of football in his life: "It's given me a platform to do a lot of different things. One thing that it's opened up for me is the opportunity to be a role model and wear the shield with pride. The NFL logo is not just handed out to anyone on the street. I take pride in that."
What he loves about football: "It's really hard to put into words. Guys who play the game know those feelings and emotions that you through – the excitement before the game, the excitement after a big play, the jubilation after a win, and that team camaraderie when you know you have something to get done that's tough and you do it as a team, there is really nothing like that in the real world. It's something you take full advantage of it and know you're blessed to be in that position."
Where the journey goes from here: "New England has given me the opportunity to prolong my career and I feel like I have it all in front of me. It's there for me to take advantage of, and that's the way I approach it every day. I am going to maintain an approach of working hard and that I have something to prove as long as I'm playing the game."