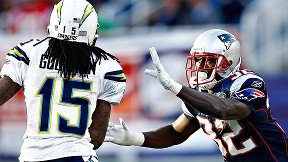 Mark L. Baer/US Presswire
Teams are throwing at him, but coach Bill Belichick says Devin McCourty is playing just fine.
Fresh off a Pro Bowl season in his rookie campaign, teams aren't being shy about throwing at Devin McCourty early in the 2011 season. Is there reason for concern? Bill Belichick doesn't think so:
Quantifying the quality of a cornerback is incredibly difficult because the best indication of solid coverage is when the opposing quarterback throws it in another direction. Yes, we're suckers for those big interception numbers, but sometimes it might be better to play by golf rules and give credit to corners who are thrown at the least.

Given that, it's been curious to see teams target New England Patriots second-year cornerback Devin McCourty so frequently over the first two weeks of the season. With McCourty coming off a Pro Bowl campaign, it would seem teams might take their chances with rookie Ras-I Dowling or even veteran Leigh Bodden, who missed all of last season with a shoulder injury.

But neither the Miami Dolphins nor San Diego Chargers shied away from McCourty. And after both teams' star receivers had big games, New England's top corner was left admitting there is room for improvement.

Is this a sophomore slump? Well, coach Bill Belichick thinks No. 32 is doing just fine.

"I think Devin's done a lot of good things for us," Belichick said during a conference call Tuesday. "He's really probably played as well as anybody we've had on defense. As always, there are plays we'd all like to have back and do better on and all that, so Devin's very competitive. He sets very high goals and standards for himself. I'm sure he feels that way too. He's certainly one of our best players."
Hop HERE to read the full story.