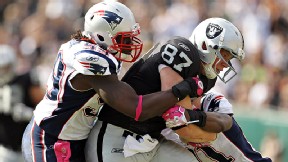 Ezra Shaw/Getty Images
Patriots linebacker Gary Guyton helps out on a tackle Sunday in Oakland.Filling in for Jerod Mayo will be no easy task, but Gary Guyton has solid qualifications -- and past experience -- for the job:
For Guyton, it's a chance to earn back some of the playing time that's eroded since 2009, when he started all 16 games and played a whopping 874 snaps (82.6 percent of New England's total defensive snaps, according to analytical stats site Pro Football Focus).

That number dipped to 675 snaps last year (57.6 percent of total snaps), with rookie Brandon Spikes earning some of Guyton's early-down action as a run-stopper.

Now it's likely that Guyton will not only step in for Mayo, but could also assume an every-down role that might land him responsibilities as the team's chief play-caller.

"Gary basically replaced Jerod in our regular defense and then we had some other guys in sub defenses," Patriots coach Bill Belichick said Monday when asked about how the Patriots divided Mayo's snaps on Sunday. "So we had some different packages in there, it wasn't a Ferris wheel of guys. There was actually a plan there, believe it or not."
Hop HERE to read the full story.