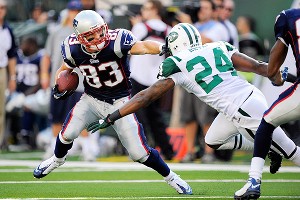 Rich Kane/Icon SMI
Could we see a matchup of two of the league's best: Wes Welker vs. Darrelle Revis.Much of the hype leading up this week's Patriots-Jets matchup is sure to center on how New York will defend wide receiver Wes Welker. Through four games, Welker leads the league in receptions (40), receiving yards (616), and yards from scrimmage (635).
The obvious answer is Darrelle Revis, the three-time Pro Bowler whose regarded as maybe the league's elite shutdown corner. The stats back it up. According to analytical stats site Pro Football Focus, Revis has only been thrown at 11 times this season (only five times since Week 1). Only three of those passes have been completed for 38 yards. Maybe the most eye-popping stat is that no pass in Revis' direction has been completed over the past three weeks.
Should the Jets move Revis into the slot to defend Welker in this Week 5 meeting? A look at the Welker vs. Revis matchups based on PFF numbers from meetings over the last three seasons:
Jan. 16, 2011 -- Jets 28, Patriots 21 -- 1 target, 1 reception, 10 yards, 6 YAC

Dec. 6, 2010 -- Patriots 45, Jets 3 -- 1 target, 1 reception, 11 yards, 13 YAC

Sept. 19, 2010 -- Jets 28, Patriots 14 -- 1 target, 0 receptions

Nov. 22, 2009 -- Patriots 31, Jets 14 -- 2 targets, 1 reception, 43 yards, 17 YAC

Sept. 20, 2009 -- Jets 16, Patriots 9 -- 0 targets (Welker DNP)

Nov. 13, 2008 -- Jets 34, Patriots 31 (OT) -- 1 target, 1 reception, 14 yards, 0 YAC

Sept. 14, 2008 -- Patriots 19, Jets 10 -- 2 targets, 2 receptions, 35 yard,s 38 YAC

Totals: 3 seasons, 6 games -- 8 targets, 6 receptions, 113 yards, 74 YAC
The numbers suggest the matchup has been a bit of a wash. While the Patriots have had success when Welker is targeted with Revis on him, it's still only six receptions over six games, and that's not exactly a number that will scare away the Jets. The matchup has yielded no touchdowns and no interceptions. Ultimately, the matchup would make for great theater, especially in this matchup of rivals. It will be interesting to see how the Jets decide to defend Welker and if the Patriots get creative to prevent New York from keying on him with one defender. It should be stressed that the two have rarely been matched because the Jets have kept Revis on outside receivers, but you have to wonder if that will change this time around.