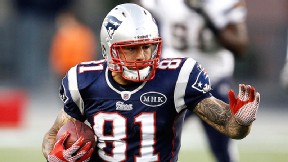 Mark L. Baer/US Presswire
A healthy Aaron Hernandez would go a long way Sunday for the Patriots.If tight end Aaron Hernandez returns to action Sunday against the New York Jets, Tom Brady's job suddenly gets easier writes ESPN Boston's Mike Reiss:
New England Patriots quarterback Tom Brady was approached Friday and asked about the player who could be the X factor Sunday against the New York Jets -- tight end Aaron Hernandez.

The question was whether he could think of any Patriots tight end over the past 11 seasons who reminded him of Hernandez. Brady came up blank.

"He's not anything like [Rob Gronkowski], not anything like Christian Fauria was. Nothing like [Daniel] Graham or [Benjamin] Watson," said Brady, who could have added Jermaine Wiggins, Rod Rutledge, Cam Cleeland, David Thomas and Kyle Brady into the mix for good measure. "He's pretty unique."

The answer confirmed the obvious, that the Patriots have not had a skill-position player with Hernandez's skill set since Brady took over the starting job in 2001. Maybe the closest they've come is when Larry Centers, who technically was listed as a fullback but was utilized as an on-the-move option in the passing game, was on the club in 2003.

"Larry was great, explosive in the pass game, a phenomenal player with great hands, smart," Brady said.

At that point, though, Centers was at the end of his 14-year career and far from the dynamic player who once caught 101 passes with the Arizona Cardinals in the mid-1990s. He also was different in the sense that the Patriots wouldn't put him next to the offensive tackle like they do at times with Hernandez, an area in which Brady views Hernandez as capable.
Hop HERE to read the full story.