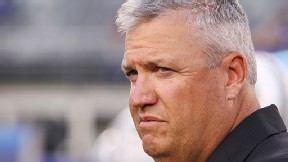 Al Pereira/New York Jets/Getty Images
Rex Ryan has added some sizzle to the Patriots-Jets rivalry.Jets coach Rex Ryan toned it down this week, but don't be fooled: Sunday's showdown versus the Patriots will be as intense as ever. That's the way it's been since Ryan rekindled this rivalry in 2009, writes Chris Forsberg:
Pats know Rex's Jets always a threat
Just look at Tom Brady's numbers as a starter vs. New York before and after Ryan's arrival. From 2001 to 2008, Brady boasted a 12-2 mark against the Jets, completing 64.3 percent of his passes with 17 touchdowns and six interceptions. Ryan took over in 2009, and including playoff games, Brady is a mere 2-3, completing 61.1 percent of his passes with nine touchdowns and four interceptions.

"They're good," Brady said this week. "They were good last year, they're good this year, and they were good two years ago. I think as long as Rex is coaching that team, they're going to have good defense."
Hop HERE to read the full story.
In his areas of interest story, Mike Reiss highlights nine things to watch on the gridiron, including the importance of jamming Jets tight end Dustin Keller:
Patriots vs. Jets: Areas of Interest
Patriots coach Bill Belichick views Keller, the Jets' top tight end, as another receiver. The Patriots plan to play physical against Keller, who leads the Jets with 18 receptions for 261 yards, Keller has had two big days against the Patriots -- 7 catches for 115 yards and 1 touchdown on Sept. 19, 2010, and 8 catches for 87 yards on Nov. 13, 2008 -- and the common thread in those performances was too many free releases at the line of scrimmage.
Hop HERE to read the full story.