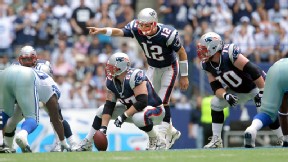 AP Photo/Matt Slocum
It's been four years since the Patriots and Cowboys last met.The New England Patriots and Dallas Cowboys haven't met in four years, which only adds to the challenge and intrigue of Sunday's matchup writes Chris Forsberg:
It doesn't seem right that two of the most decorated franchises in NFL history have met so infrequently, but when the Dallas Cowboys visit the New England Patriots Sunday at Gillette Stadium, it will be only the 11th all-time meeting between the two teams.

Consider this: Tom Brady has started 12 career games against the Indianapolis Colts. In a decade span, Brady has played a single team more times than two squads that have combined to appear in 14 Super Bowls (winning eight of them) over the past four decades.

Yes, under the current schedule rotation, a Patriots-Cowboys clash is as frequent as a presidential election (or your favorite seasonal Olympic Games). Dallas boasts a 7-3 lifetime advantage over New England, but the Patriots have won the last three meetings between the two teams.
Hop HERE to read the full story.
Mike Reiss runs down areas of interest in Sunday's matchup, including how the Patriots must find and block linebacker DeMarcus Ware:
The Cowboys move their stud outside linebacker all across the formation, so the first order of business is identifying where he is, before carrying out the more difficult assignment of blocking him. Ware has five sacks in four games -- some of which have come in crunch time -- and Bill Belichick mentioned him in the same sentence as former New York Giants great Lawrence Taylor this week. Ware and Anthony Spencer are a formidable 1-2 threat at outside linebacker, so one possibility is the Patriots running more three-tackle packages, a strategy they utilized on about 25 percent of their snaps against the Chargers to devote more attention to outside linebackers Shaun Phillips, Travis LaBoy and Antwan Barnes.
Hop HERE to read the full story.