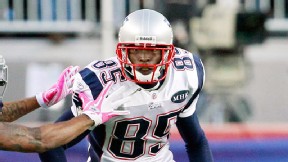 AP Photo/Elise Amendola
Wide receiver Chad Ochocinco is still waiting for it all to click in Heaven... err, New England.The Patriots biggest problem at the bye: Their fifth receiver isn't producing. Yawn:
If Chad Ochocinco or any of his 2.9 million Twitter followers went to bed concerned after Sunday's game, they woke up to hear a unified voice of confidence from teammates and staffers alike. Heck, O'Brien blamed himself for Ochocinco's route gaffe on Monday.

Whether his teammates and coaches actually believe what they are saying is certainly open to debate, but they're giving Ochocinco every chance to make this right. And why not? It's not impeding the ultimate goal of winning games (though that grab in Buffalo might have gone a long way toward making the Patriots 6-0, if you really want to fuss about it).

"Look, he's working hard at it," Brady said while offering his weekly State of Ochocinco update during an appearance on Boston sports radio WEEI on Monday. "We're all working hard at it. I'd say there's definitely a lot of improvement that we've made and that we're going to continue to make. I have a lot of trust and confidence in him. I don't lack for that at all."

Brady's initial reaction after Sunday's route confusion suggests differently. As does the snap totals for Ochocinco, who was on the field for only seven total plays against the Cowboys and has logged a mere 153 offensive snaps on the season (60 of which came in that Week 3 loss in Buffalo in which the team was short on tight ends).

"Ocho is progressing every week," O'Brien said. "He's done a really good job in practice and when he's been in certain parts of games, he's produced. We're happy where Ocho is with things right now."

Or, to be more clear, the Patriots are happy with where the team is -- 5-1 while getting virtually no production from Ochocinco.
Hop HERE to read the full story.