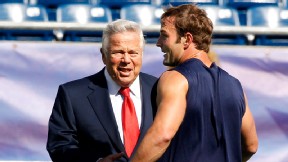 AP Photo/Charles Krupa
Will Wes Welker and Patriots owner Robert Kraft huddle during the bye week?The Patriots have a bye week and their "phenomenon" wide receiver Wes Welker needs a new contract. Time to act, Mr. Kraft?
Back in the 2006 season, the New England Patriots were off to a 4-1 start when they reached their off weekend. They used it as an opportunity to take care of contract-related business, extending center Dan Koppen's pact five years.

Some view the bye week as a checkpoint when it comes to contracts, the one chance during the season to step back from the daily grind and potentially address the long-term future of a core member of the team. If the club takes a similar course this year, and it makes sense to think they'd be exploring it, the top candidates are receiver Wes Welker, linebacker Jerod Mayo and offensive lineman Sebastian Vollmer.

Of the three, Welker's status has drawn the most attention because he's in the final year of his deal and producing big results, while Mayo and Vollmer have contracts that don't expire until the end of 2012.
Hop HERE to read the full story.