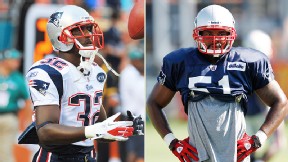 Getty Images, AP Photos
Will cornerback Devin McCourty return to Pro Bowl form? How much will linebacker Jerod Mayo help the defense? We tackle the burning questions surrounding the New England Patriots coming out of their bye week.
Mike Reiss offers his five questions, including one on McCourty:
The bar was raised high for McCourty after an impressive rookie season that included seven interceptions and a Pro Bowl berth. He's still looking for his first pick this season. Overall, his performance has been up and down and he's also been at the top of the team's tackle charts, which isn't where a cornerback wants to be.

When looking at players who have not matched what they did previously, McCourty is one of the first to come to mind.

The Patriots' defense will need more from him.
Chris Forsberg offers his five questions, including one that wonders what the full potential of the New England defense is:
The Patriots should get a few bodies back on the defensive side of the ball after the bye, including linebacker Jerod Mayo. It will be interesting to see if improved health will further aid this unit's ability to gel. You know the story by now: New England gave up a bazillion yards over the first four weeks of the season and is still ranked dead last in the league in total yardage allowed.

That said, the Patriots have put together back-to-back quality defensive efforts and the points allowed statistic -- the bottom-line metric for any defense -- has creeped up to 14th in the league (22.5 points per game). Defensive players preached patience at the start of the year, but can they continue to build off the quality play before the bye?
Hop HERE to read both stories.
[Your turn: What questions linger in your mind as the Patriots prepare for the second half of their 2011 season? Sounds off in the comments.]