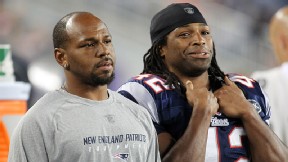 AP Photo/Stew Milne
Patriots running back Kevin Faulk is ready to join BenJarvus Green-Ellis in uniform.Kevin Faulk is back on the practice field, but how much -- and when -- can he help on Sundays?
Just three years have passed since BenJarvus Green-Ellis enjoyed the first carry of his NFL career in Week 6 of the 2008 campaign. The Patriots utilized five other running backs that season, but only one remains on an active NFL roster: Kevin Faulk.

The Patriots cut 34-year-old Sammy Morris before the start of the 2011 season; LaMont Jordan was out of the league at age 31 by 2009; Heath Evans retired at age 32 before the 2011 campaign and is now an NFL Network analyst; and 26-year-old Laurence Maroney, a former first-round pick, is still looking for work.

Yes, at age 35, and now in his 13th NFL season, it's a marvel that Faulk is still on the Patriots' roster. But after sitting out the final 16 games of the 2010 season with an ACL injury, Faulk is working his way back off the reserve/physically unable to perform list with the goal of showing there's more football left in him.

"It's always fun to see an old face back out there," the 26-year-old Green-Ellis said when asked about Faulk's return to practice last Tuesday. The Patriots have up to two more weeks to either put Faulk on the 53-man active roster or move him to season-ending injured reserve.

"Most of the guys I came in with aren't here any more. … Obviously, we can't replace his veteran leadership, and some of the things he's learned playing 13 years. It's always good to get those little pointers and things like that. It's fun to have Kevin back out there," Green-Ellis added.
Hop HERE to read the full story.
[Your turn: What do you think will be Kevin Faulk's biggest contribution to the team? Will his return stunt the development of the rookie running backs? Sound off in the comments.]