Stew Milne/US Presswire
Patriots rookie quarterback Ryan Mallett at work during the preseason.FOXBOROUGH, Mass. – Rookie quarterback Ryan Mallett has done his best Ben Roethlisberger impersonation this week. One of his primary jobs over the last four days was to help run the scout team offense, which meant giving the defense as close to a replica of Roethlisberger as possible.
"You just try to do what he does. I've enjoyed it, because he moves around a little bit," Mallett said.
Unlike some other rookie quarterbacks around the NFL who have been thrust quickly into starting roles, the 23-year-old Mallett finds himself in a different situation. He's No. 3 on the depth chart behind Tom Brady and Brian Hoyer, meaning he operates mostly under the radar. Head coach Bill Belichick recently praised his progress in an interview with Sirius NFL Radio (link here).
"He's had a good opportunity to learn and improve, and do things off the field that can help him get better. And he's worked real hard at that. I think he's making a lot of progress," Belichick said.
The 6-foot-6, 238-pound Mallett, whose high school and college careers were anything but under the radar, shared his "football journey" this week with ESPNBoston.com:
When he first started playing football: "Sixth grade. I played left guard and linebacker. There was a weight limit to play quarterback at that age; you had to be 135. I was 150, so I couldn't touch the ball. I just wanted to play quarterback, which happened in the seventh grade. That experience gave me respect for offensive linemen the rest of my career."
Playing football at Texas High School in Texarkana, Texas: "The main thing was playing for a great group of coaches. Football was it. That helped encourage my passion for the game, which I already had because my dad was a coach. I had a bunch of great teammates and we had some really good teams. We didn't lose too many games."
Why he initially attended the University of Michigan: "The system and the coaches, I really loved how they ran their offense. I really had a strong relationship with the coaches [Lloyd Carr's staff]. They recruited me hard and I could tell they wanted me there. I loved everything about it when I went to campus."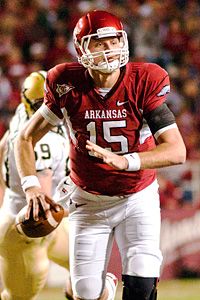 AP Photo/April L. Brown
Mallett at Arkansas.Transferring to Arkansas after a Michigan coaching change: "The offense [new coach Rich] Rodriguez ran wasn't suited to my style. I'm more of a drop-back, throw-the-ball guy. I didn't want to be in the 'gun all the time. So I made the decision, and it was hard, because I loved Michigan. The coaches were awesome, the fans were awesome, but I felt it was something I had to do personally."
Why Arkansas was the right choice: "It's home, my hometown team, the team I grew up cheering for. You had a coach [Bobby Petrino] coming in there and I had obviously seen what he did at Louisville, and the offense he ran. When I went for a visit and he showed me, it was pretty much a done deal right then."
Top memories at Arkansas: "In terms of one play, it would have to be fourth-and-3 against LSU, fourth quarter, and we hit a touchdown – a double move to Joe Adams that put us in the Sugar Bowl. That was a sweet play, one of my all-time favorites."
Summing up his time at Arkansas: "If there was one word, it would be 'awesome.' You get to play in front of a rabid group of fans that love their hometown team. That's really the big draw there. To walk into that stadium, and come through the 'A', and all the fans, just awesome."
Drafted by the Patriots in the third round: "It was exciting. I worked my whole life to get to this point and finally had a chance to prove myself. Now it's just working and trying to get better, and getting everything as quickly and thoroughly as possible. I'm learning every day. I obviously have great teachers, great coaches. It's a great organization to be in. It's about working hard and doing the right things. You have to come to work every day ready to work."
Drawing from his experience in the preseason: "It's not college any more. It's more difficult. But once I start to feel the game, and pick up and keep working, I think I have a chance to get even better. I watch how [Tom Brady and Brian Hoyer] do things and try to incorporate them in my game. That's helped me grow as a player."
Having the luxury of growing behind the scenes: "Obviously, as a competitor, you want to play. But I understand my role as a teammate and on this team, so what I try to do is be a good teammate and help with whatever I can, and wait my turn. I had to do it before. Some of the guys who have been thrown in there [around the NFL] have played great, and I don't doubt I could do the same, but it's not my role. I'm a team guy. I do whatever they tell me to do."
Role models in his career: "My dad was definitely one. I always grew up going to his practices in high school. I'd go out there and pick up the footballs and just throw them. He taught me and coached me when I was younger. He's always been my role model."
Favorite teams growing up: "I didn't have too many favorite teams. I just liked the game. I did like the Cowboys because of Troy [Aikman] and Michael [Irvin] and those guys."
What he likes about football: "Really everything, but the competition, especially in the NFL. Every day in practice is a competition. In college, not so much; you have more players, more scout team guys. In the NFL, the competition is great and that's what drives you."
What he's learned about New England: "That is snows in October [laughing]. That's the first time I've ever seen that. I love the area. The people are great. It sort of reminds me of back home."
Summing up his football journey to this point: "My journey is not over. I won't be able to sum it up it's over. It's on a continuing path right now."