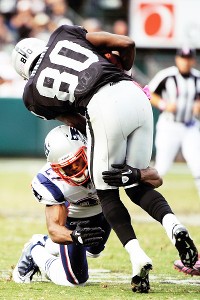 Thearon W. Henderson/Getty
Antwaun Molden makes a tackle in the game against the Raiders.
With the Patriots coming off their bye, target stats haven't changed since last week's entry. But the secondary received a major shakeup Friday when veteran Leigh Bodden was released by the team, and on Saturday, when rookie cornerback Ras-I Dowling was placed on injured reserve. This leaves the Patriots dangerously thin at cornerback for Sunday's game in Pittsburgh, especially considering the lack of experience at the end of the depth chart.
At the moment, Antwaun Molden and Phillip Adams would potentially be the nickel and dime corners -- unless the Patriots utilized an extra safety at those spots. Molden, a former third-round draft pick (79th overall in 2008) of the Houston Texans, has seen the most extensive defensive snaps of his career with the Patriots. Meanwhile, Adams, who's been in and out of the New England locker room early in the season, is a former seventh-round pick (224th overall) of the San Francisco 49ers and was thrown at for two touchdowns in limited snaps during his rookie campaign.
Untested Corners
A look at the career snap totals and coverage stats for Patriots cornerbacks Antwaun Molden and Phillip Adams (target stats courtesy of Pro Football Focus):
By comparison, Bodden had played 219 snaps this season with 12 of the 22 passes in his direction caught for 192 yards and a touchdown. Opposing quarterbacks had a 99.1 rating when throwing on him.